Events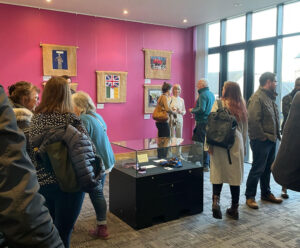 Exhibitions, featuring arpilleras, quilts and wall hangings, have been hosted in museums, universities, art galleries, embassies and community spaces worldwide.
These are often accompanied by a launch and are generally highly visible, public events. Over the years, a number of associated activities have come to form part of the exhibition programme, such as film screenings, workshops, and roundtable discussions. These have proved highly successful in enabling people to have a more 'hands-on' experience and to move from the position of viewer and observer to actively engaging in the process.
Please note that information on forthcoming events will now also include any documents that are available which describe the pre-launch preparations. Following the ending of an event, information will be added about any particular outcomes that arose from the staging of the event.
Click on the headings (below) to 'View' or 'Hide' the events listings. Use the 'Search' facility (above) to locate and view specific events.
Conflict Textiles Events
---

Lanzamiento de libro y exposición: Arpilleras Poéticas
Dates: 7th December 2023 until 17th March 2024
Venue: Museo Nacional de Bellas Artes, Santiago de Chile

---

---

---

---

---

---

---

---

Rotating exhibition: ARK / Conflict Textiles
Dates: 1st June 2023 until 30th May 2024
Venue: McClay Library, Queen's University, Belfast

---

---

---

Exhibition and associated activities: Inclusive Global Histories
Dates: 31st March 2022 until 31st March 2024
Venue: Ulster Museum, Belfast, Northern Ireland

---

---

---

Workshop: Waking the Land
Dates: 11th July 2023 until 11th July 2023
Venue: ^ artist collective

---

---

---

Participatory textile installation: Woven Hug (Abrazo Entramado)
Dates: 15th June 2023 until 26th August 2023
Venue: Flowerfield Arts Centre, Portstewart, Northern Ireland

---

Exhibition and associated activities: A World of Stories
Dates: 13th May 2023 until 26th August 2023
Venue: Coleraine Museum at Coleraine Town Hall

---

---

---

---

---

---

---

---

---

---

---

---

---

---

---

---

Exhibition and associated activities: Threads for Corporate Justice
Dates: 11th October 2022 until 17th October 2022
Venue: Belfast, Northern Ireland

---

---

---

---

---

Exhibition and associated activities: Climate Change – The People's Story
Dates: 9th July 2022 until 18th December 2022
Venue: Tower Museum, Derry / Londonderry, Northern Ireland

---

Rotating exhibition: The Troubles and Beyond
Dates: 28th June 2022 until 8th February 2023
Venue: Ulster Museum, Belfast, Northern Ireland

---

---

---

---

---

---

Exhibition and associated activities: The Glorious Art of Peace
Dates: 4th April 2022 until 1st May 2022
Venue: Cornerstone Arts Centre, Didcot

---

---

---

---

Textile installation: Abrazo Entramado (Woven Hug)
Dates: 16th February 2022 until 7th April 2022
Venue: Cultural Centre LABNL, Lab Cultural Ciudadano, Mexico

---

---

---

Exposición, talleres, proyección de documentales, conferencia: Tras las huellas de los/as desaparecidos/as
Dates: 10th January 2022 until 5th February 2022
Venue: Casa Seminario, 12 Centro Histórico de la ciudad de México

---

Rotating exhibition: The Troubles and Beyond
Dates: 20th December 2021 until 28th June 2022
Venue: Ulster Museum, Belfast, Northern Ireland

---

---

---

---

---

Podcast: Visualising War
Dates: 10th November 2021 until 31st January 2022
Venue: School of Classics, University of St Andrews

---

Workshops: Derry Dolls: Present to Past
Dates: 9th November 2021 until 26th April 2022
Venue: The Fashion & Textile Design Centre, Derry/Londonderry

---

---

---

---

---

---

---

---

---

---

---

---

---

---

---

Exhibition : Shirts, Singers and Sewing
Dates: 24th May 2021 until 31st August 2021
Venue: Tower Museum, Derry / Londonderry, Northern Ireland

---

---

---

---

---

---

---

---

---

---

---

Workshops (online): The Art of the Banner
Dates: 9th February 2021 until 23rd February 2021
Venue: Linen Hall Library Online

---

---

---

---

---

---

Rotating exhibition: The Troubles and Beyond
Dates: 6th October 2020 until 31st August 2021
Venue: Ulster Museum, Belfast, Northern Ireland

---

Online exhibition and associated activities: Conflict, Peace: Our journey, our future
Dates: 14th September 2020 until 31st October 2020
Venue: Causeway Coast & Glens Borough Council, Coleraine, Northern Ireland

---

Online exhibition and associated activities: Following the footsteps of the disappeared
Dates: 30th August 2020 until 30th August 2021
Venue: Ulster Museum Belfast; Magee Campus Derry, Ulster University and online

---

---

---

---

---

Online exhibition: Arpillera Doll Exhibition
Dates: 21st April 2020 until 31st July 2020
Venue: Roe Valley Arts and Cultural Centre, Limavady, Northern Ireland

---

---

Panel discussion / presentation : Chile 1973
Dates: 22nd February 2020 until 22nd February 2020
Venue: Starr Cinema, Tate Modern London

---

---

---

Exhibition and associated activities: Embracing Human Rights
Dates: 5th November 2019 until 18th December 2019
Venue: Verbal Arts Centre, Derry / Londonderry, Northern Ireland

---

---

---

---

---

---

Workshop: Keeping Memory Alive
Dates: 24th May 2019 until 24th May 2019
Venue: Unite the Union, London

---

Rotating exhibition: The Troubles and Beyond
Dates: 13th May 2019 until 6th October 2020
Venue: Ulster Museum, Belfast, Northern Ireland

---

---

Exhibition and associated activities: Threads, War and Conflict
Dates: 3rd April 2019 until 29th April 2019
Venue: The Byre Theatre, St Andrews, Scotland

---

---

Talk, display and film screening: Conflict Textiles talk
Dates: 3rd February 2019 until 3rd February 2019
Venue: The Gallery of Everything, London

---

---

---

Workshop: Conflict Textiles workshops
Dates: 9th January 2019 until 29th January 2019
Venue: Tower Museum, Derry / Londonderry, Northern Ireland

---

---

---

---

Exhibition and associated activities: War-Torn Children
Dates: 5th September 2018 until 29th November 2018
Venue: Roe Valley Arts and Cultural Centre, Limavady, Northern Ireland

---

---

Exhibition and associated activities: Neo Norte
Dates: 9th August 2018 until 2nd September 2018
Venue: Fundación Cultural de Providencia, Santiago, Chile

---

---

---

---

---

---

Rotating exhibition: The Troubles and Beyond
Dates: 30th March 2018 until 13th May 2019
Venue: Ulster Museum, Belfast, Northern Ireland

---

Exhibition and associated activities: Latin American Village
Dates: 16th February 2018 until 16th February 2018
Venue: Teviot Row House, Edinburgh, Scotland

---

Exhibition and associated activities: War-Torn Children
Dates: 8th February 2018 until 24th March 2018
Venue: Regional Cultural Centre, Letterkenny, Co. Donegal

---

---

Exhibition and associated activities: Remembering the Holocaust
Dates: 8th January 2018 until 27th January 2018
Venue: Ballymoney Museum, Northern Irleand

---

---

---

---

Exhibition and associated activities: Textile Language of Conflicts
Dates: 6th November 2017 until 10th November 2017
Venue: Exhibition: Minor Hall (MD106), Main Building, Magee Campus, Ulster University

---

Exhibition and associated activities: War-Torn Children
Dates: 2nd October 2017 until 27th October 2017
Venue: Verbal Arts Centre, Derry / Londonderry, Northern Ireland

---

Exhibition and associated activities: Arpilleras Speak Truth
Dates: 25th September 2017 until 28th October 2017
Venue: Centre of Latin American Studies (CLAS), University of Cambridge

---

Seminar, Display and Workshop: Arpilleras, yesterday and today
Dates: 14th September 2017 until 15th September 2017
Venue: London School of Economics and Political Science. England

---

Exhibition and associated activities: Stitching Memoryscape 「記憶風景を縫う」
Dates: 29th August 2017 until 3rd September 2017
Venue: Nagasaki Prefectural Art Museum, JAPAN

---

Exhibition and associated activities: War-Torn Children
Dates: 17th July 2017 until 28th July 2017
Venue: CB1 Gallery, Limerick

---

Exhibition and associated activities: Stitching Memoryscape 「記憶風景を縫う」
Dates: 1st July 2017 until 9th July 2017
Venue: Kambaikan Gallery (B1F), Doshisha University, Kyoto, Japan

---

---

---

---

Exhibition and associated activities: War-Torn Children
Dates: 1st March 2017 until 15th April 2017
Venue: Linen Hall Library, Belfast, Northern Ireland

---

---

---

Exhibition and associated activities: Stitched Legacies of Conflicts
Dates: 7th October 2016 until 26th November 2016
Venue: Roe Valley Arts and Cultural Centre, Limavady, Northern Ireland

---

Exhibition and associated activities: Arpillera Voices and Echoes
Dates: 6th October 2016 until 14th November 2016
Venue: Verbal Arts Centre, Derry / Londonderry, Northern Ireland

---

Workshop: Arpillera Workshop
Dates: 21st July 2016 until 21st July 2016
Venue: Gasyard Arts Factory, Derry / Londonderry, Northern Ireland

---

---

Workshop: Chilean Arpilleras
Dates: 29th June 2016 until 29th June 2016
Venue: Textile Research Centre (TRC), the Netherlands

---

---

Exhibition and associated activities: Enduring Life: Arpillera Voices
Dates: 11th May 2016 until 15th July 2016
Venue: Alley Arts and Conference Centre, Strabane, Northern Ireland

---

---

---

---

---

---

---

---

---

---

---

---

---

---

---

---

Exhibition and associated activities: Arpillera Journeys
Dates: 6th March 2015 until 12th June 2015
Venue: Tower Museum, Derry / Londonderry, Northern Ireland

---

---

Exhibition and associated activities: Textile Accounts of Conflicts
Dates: 6th February 2015 until 7th March 2015
Venue: Linen Hall Library, Belfast, Northern Ireland

---

Exhibition and conference: Textile Accounts of Conflicts
Dates: 17th November 2014 until 18th November 2014
Venue: Holiday Inn, Belfast, Northern Ireland

---

---

Exhibition and associated activities: Disobedient Objects
Dates: 26th July 2014 until 11th February 2015
Venue: Victoria and Albert Museum, London, England

---

Exhibition and associated activities: SMALL Actions BIG Movements
Dates: 1st July 2014 until 11th July 2014
Venue: Cape Town City Hall, South Africa

---

---

Film screening and associated events: Retazos de Vida / Scraps of Life
Dates: 27th May 2014 until 14th June 2014
Venue: The Metropolitan Arts Centre (MAC), Belfast, Northern Ireland

---

Exhibition and associated activities: Women 31
Dates: 7th March 2014 until 15th April 2014
Venue: Verbal Arts Centre, Derry / Londonderry, Northern Ireland

---

Film screening and associated events: Holocaust Memorial Day Event
Dates: 27th January 2014 until 27th January 2014
Venue: Limavady Library, Northern Ireland

---

---

Exhibition and associated activities: Arpilleras y cotidianeidad femenina
Dates: 5th October 2013 until 7th November 2013
Venue: Museo de la Mujer, Buenos Aires (Women's Museum, Buenos Aires)

---

---

Exhibition and associated activities: Arpilleras in contested spaces
Dates: 3rd September 2013 until 6th September 2013
Venue: St.Andrews-on-the-Terrace, Wellington, New Zealand

---

---

Exhibition and associated activities: Meeting Chilean Arpilleras
Dates: 3rd May 2013 until 31st October 2013
Venue: Oshima Hakko Museum, Japan

---

---

---

---

Film screening and associated events: Holocaust Memorial Day Event
Dates: 26th January 2013 until 26th January 2013
Venue: Tower Museum, Derry / Londonderry, Northern Ireland

---

---

---

---

Exhibition: The Killarney Girls' Arpilleras
Dates: 22nd August 2012 until 28th October 2012
Venue: Verbal Arts Centre, Derry / Londonderry, Northern Ireland

---

---

Exhibition : "Age Old Stories" Arpillera
Dates: 20th June 2012 until 20th August 2012
Venue: Verbal Arts Centre, Derry / Londonderry, Northern Ireland

---

---

---

---

---

Exhibition and associated activities: Transforming threads of resistance
Dates: 27th February 2012 until 9th March 2012
Venue: Student Union Art Gallery, University of Massachusetts

---

---

Exhibition: The Tree of Life
Dates: 7th December 2011 until 28th February 2012
Venue: Verbal Arts Centre, Derry / Londonderry, Northern Ireland

---

---

Forum: I Fòrum de Arpilleres de Catalunya
Dates: 26th October 2011 until 31st October 2011
Venue: Espai Francesca Bonnemaison / Francesca Bonnemaison Cultural Women's Centre

---

Exhibition: To the Lighthouse
Dates: 9th September 2011 until 10th December 2011
Venue: Verbal Arts Centre, Derry / Londonderry, Northern Ireland

---

---

Exhibition: The Alphabet Quilt
Dates: 16th June 2011 until 31st August 2011
Venue: Verbal Arts Centre, Derry / Londonderry, Northern Ireland

---

Exhibition and associated activities: The poetry of arpilleras
Dates: 31st May 2011 until 3rd June 2011
Venue: Centre of Latin American Studies (CLAS), University of Cambridge

---

---

---

---

Exhibition: Rathlin Reflections
Dates: 8th March 2011 until 14th April 2011
Venue: Verbal Arts Centre, Derry / Londonderry, Northern Ireland

---

---

Exhibition: Nuestra Travesía / Our journey
Dates: 15th January 2011 until 28th February 2011
Venue: Verbal Arts Centre, Derry / Londonderry, Northern Ireland

---

---

---

---

Exhibition and associated activities: Stitching Resistance
Dates: 12th October 2010 until 16th January 2011
Venue: Museum of Osaka University

---

---

---

---

---

Workshop: Quilt and Arpillera Making
Dates: 7th July 2010 until 8th July 2010
Venue: Rathlin Island, County Antrim, Northern Ireland

---

Exhibition: Sheep in Quilts
Dates: 1st July 2010 until 15th August 2010
Venue: Verbal Arts Centre, Derry / Londonderry, Northern Ireland

---

Exhibition and associated activities: Following the Thread
Dates: 21st June 2010 until 27th June 2010
Venue: Community Base, World Museum, Liverpool

---

---

Exhibition and associated activities: Exhibit of Chilean Arpilleras
Dates: 20th May 2010 until 22nd May 2010
Venue: Central Congregational Church

---

---

---

Exhibition: Guatemalan Textiles
Dates: 29th March 2010 until 28th June 2010
Venue: Verbal Arts Centre, Derry / Londonderry, Northern Ireland

---

---

Exhibition: The Bill of Rights
Dates: 8th March 2010 until 27th March 2010
Venue: Verbal Arts Centre, Derry / Londonderry, Northern Ireland

---

Exhibition and associated activities: Cultural Stories in Textiles
Dates: 25th February 2010 until 27th February 2010
Venue: Harpur's Hill Community Centre

---

Exhibition and associated activities: Arpilleras habitades de memòria
Dates: 14th January 2010 until 26th February 2010
Venue: Centre d'Informació i Recursos per a les Dones, Barcelona

---

---

Exhibition and associated activities: Textiles with a Story
Dates: 4th December 2009 until 4th December 2009
Venue: Coleraine Town Hall

---

Exhibition and associated activities: The Human Cost of War
Dates: 8th November 2009 until 21st November 2009
Venue: Imperial War Museum, London

---

Exhibition: The Africa Quilt
Dates: 22nd October 2009 until 30th November 2009
Venue: Verbal Arts Centre, Derry / Londonderry, Northern Ireland

---

---

---

Exhibition: Cultures from the heart
Dates: 10th September 2009 until 12th October 2009
Venue: Verbal Arts Centre, Derry / Londonderry, Northern Ireland

---

Exhibition: Events of 1998
Dates: 10th July 2009 until 10th September 2009
Venue: Verbal Arts Centre, Derry / Londonderry, Northern Ireland

---

Exhibition and associated activities: Arpilleras that Cry Out
Dates: 22nd June 2009 until 10th July 2009
Venue: Flowerfield Arts Centre, Portstewart, Northern Ireland

---

---

---

Exhibition: Sew and Sew's Quilt
Dates: 6th April 2009 until 5th May 2009
Venue: Verbal Arts Centre, Derry / Londonderry, Northern Ireland

---

Exhibition and associated activities: Women's Real Lives
Dates: 9th March 2009 until 28th March 2009
Venue: Women's Centre, Derry

---

Exhibition and associated activities: Women's Real Lives
Dates: 5th March 2009 until 28th March 2009
Venue: Tower Museum, Derry / Londonderry, Northern Ireland

---

Exhibition and associated activities: Women's Real Lives
Dates: 5th March 2009 until 28th March 2009
Venue: Eden Place Arts Centre

---

---

---

---

Exhibition: Shared Visions
Dates: 13th January 2009 until 6th February 2009
Venue: Verbal Arts Centre, Derry / Londonderry, Northern Ireland

---

Exhibition: 'Micro Cosmos'
Dates: 3rd December 2008 until 12th January 2009
Venue: Verbal Arts Centre, Derry / Londonderry, Northern Ireland

---

---

---

---

---

Exhibition: A piece of me, a piece of us
Dates: 14th October 2008 until 2nd December 2008
Venue: Verbal Arts Centre, Derry / Londonderry, Northern Ireland

---

---

Exhibition: Chilean Arpilleras
Dates: 11th September 2008 until 11th October 2008
Venue: Regional Cultural Centre, Letterkenny, Co. Donegal

---

Exhibition: Friendship through Quilting
Dates: 1st September 2008 until 14th October 2008
Venue: Verbal Arts Centre, Derry / Londonderry, Northern Ireland

---

Exhibition: A Quilt for the World
Dates: 1st July 2008 until 29th August 2008
Venue: Verbal Arts Centre, Derry / Londonderry, Northern Ireland

---

---

---

---

---

---

---

---

---

---

---

---

---

---

---