Textiles
The variety of local and international textiles which form part of the Conflict Textiles collection, are primarily arpilleras, quilts and wall hangings. Textiles from other collections which have been included in various exhibitions are also documented.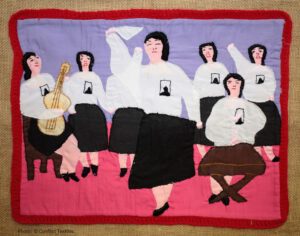 Arpilleras: Their Chilean origins
Arpilleras (pronounced 'ar-pee-air-ahs') which form the majority of this collection, can be simply described as three-dimensional appliquéd tapestries of Latin America that originated in Chile. These became the medium for women, generally working collectively, to denounce the human rights abuses and repression of the Pinochet dictatorship in Chile, 1973-1990.
The International journey of Arpilleras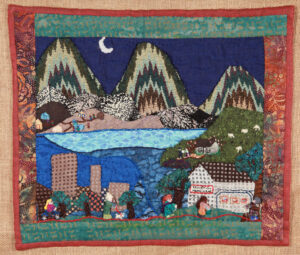 The art of making arpilleras subsequently spread to womens' groups in Peru and more recently to Spain, Brazil, Argentina, the UK, Ireland, Germany, Zimbabwe, Colombia, Canada, New Zealand and Ecuador. Across these varying contexts, in workshops primarily attended by women, whether working through the medium of arpillera, quilt or wall hanging, the burning issues remain remarkably similar. Stories of political conflict, anti-war protests, repression, resistance, survival, denial, death, disappearances, displacement, national histories, environmental concerns, indigenous land struggles and transition to democracy continue to find expression in textile form.
Arpilleras featured in the 2008 exhibition, The Art of Survival: International and Irish Quilts, were sourced mainly from the personal collection and contacts of Roberta Bacic. The international exhibition came from the Regional and International Museum of Women's Culture, Furth, Germany.
Quilts and Wall hangings – The Northern Ireland dimension
The local textiles included in The Art of Survival: International and Irish Quilts exhibition, were mainly quilts and wall hangings. These were sourced from womens' groups and local artists; the result of an extensive visiting process by guest curator, Roberta Bacic.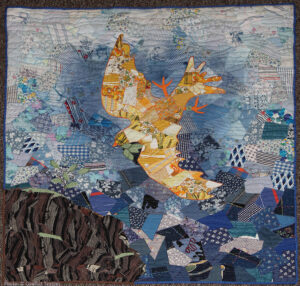 These textiles, and subsequent quilts and wall hangings within the Conflict Textiles collection were stitched by individuals, cross community, cross border and single identity groups. They depict a variety of themes centred on The Troubles and its aftermath in Northern Ireland. During this 30 year period of ethno-political conflict, dating from the late 1960s until 1998, 3,600 people, mainly civilians were killed.
In 2014, Textile Accounts of Conflicts, an exhibition of textiles and associated memorabilia, was included within the International Conference Accounts of the Conflict: Digitally Archiving Stories for Peacebuilding. This conference, hosted by the International Conflict Research Institute (INCORE), Ulster University, has consolidated the use of textiles as a legitimate way to document and narrate conflict in Northern Ireland and beyond.
Use the 'Search' facility to locate and view textiles.