---

CAIN Web Service
Violence - Information on Deaths During the Conflict
---
[CAIN_Home]
[Key_Events] [KEY_ISSUES] [Conflict_Background]
VIOLENCE: [Menu] [Reading] <!a href="/issues/violence/summary.htm">[Summary] <!a href="/issues/violence/organis.htm">[Background] [Chronology] [Incidents] [Deaths] [Main_Pages] [Statistics] [Sources]
---
Page Compiled: Martin Melaugh
Material is added to this site on a regular basis - information on this page may change
---
Information on Deaths During the Conflict
Various organisations and individuals have produced lists of those who have been killed as a result of 'the Troubles' in Northern Ireland. Currently there are a number of sources of comprehensive information on deaths. These are listed below. The major differences in the various databases relates to the definitions used when deciding which deaths to include, and also the time frames.
---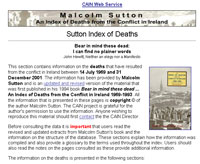 Sutton Index of Deaths, 1969-2001
An on-line database derived from Malcolm Sutton's book
This on-line resource is based on a revised and updated version of Malcolm Sutton's book (see below). Since publication of his book Malcolm Sutton has been updating and revising the information in his files. In October 1999 he agreed to make the information available to the CAIN Project. In October 2002 the information was updated to December 2001. Relatives of those killed, and CAIN users, provide additional information on a regular basis. Malcolm Sutton checks this information and an update is conducted.

---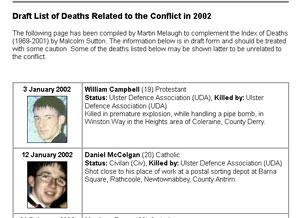 Draft List of Deaths Related to the Conflict, 2002 to Present
Information compiled by Martin Melaugh
2002 to present (in a single Web page)
2002 2003 2004 2005 2006 2007 2008 2009 2010 2011 2012 2013 2014 2015 2016 2017 2018
(in separate Web pages)
These DRAFT listings are intended to complement Sutton's listing for 1969-2001 (see above). The listings are presented in chronological order. The information in the listings are based on various sources including: media reports; reports published by the Independent Monitoring Commission; and information released by the Police Service of Northern Ireland. The information includes some deaths which are classed as 'Uncertain if conflict-related', many of these deaths were followed by media speculation about paramilitary involvment. All the information should be treated as DRAFT because it is subject to change.
---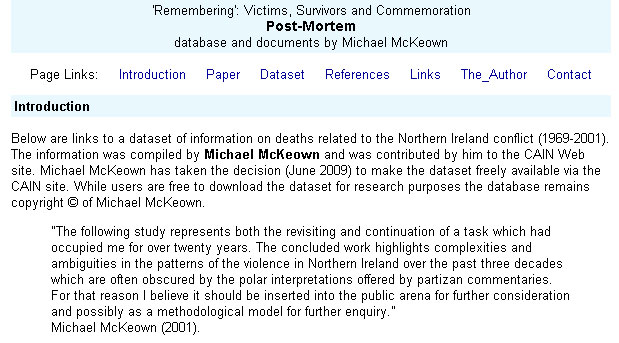 Post-Mortem
Michael McKeown's Database of Deaths, 1969-2001
In 2009 Michael McKeown agreed to make his database of deaths available on-line on the CAIN Web site. This is the only full (source) database that is freely available for people to download. Copies of McKeown's publications are also available via the above link. McKeown's criteria for including deaths is more comprehensive that Sutton's (above) hence the total number of deaths is slightly higher.
---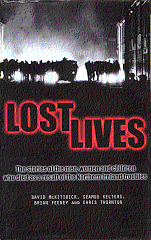 Lost Lives
David McKittrick, Seamus Kelters, Brian Feeney and Chris Thornton (1999)
The stories of the men, women and children who died as a result of the Northern Ireland troubles
This book was published in October 1999 and contains detailed entries for most of the deaths that occurred as a result of the conflict.
---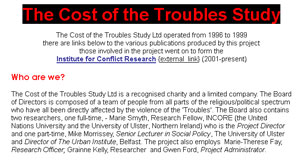 Cost of the Troubles Study (CTS)
Series of reports on the impact of the conflict. The CTS produced a database of deaths but took a decision not published it. The various reports published by the CTS provide a detailed analysis of conflict-related deaths.
---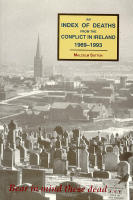 An Index of Deaths from the Conflict in Ireland, 1969-1993
Malcolm Sutton (1994)
This book (now out of print) provided information on deaths between July 1969 and December 1993. At the time it was the most comprehensive published account of conflict-related deaths. A revised and updated (to December 2001) version is now available on-line at the CAIN site (see above).
---
Official Information
RUC list of troubles-related deaths produced by NIO, Belfast (1995)
RUC: The Grim Statistics, Police Review, Belfast (1986)
The major limitation of the information produced by the Royal Ulster Caonstabulary (RUC) is the fact that it does not include those deaths that occurred outside of Northern Ireland. See:
---
Irish Information Partnership (IIP)
A group called the Irish Information Partnership collected information on deaths, compiled a database, and published some reports on the information during the 1980s. One such report was published on 14 October 1985. The information showed that more than 50 per cent of the 2,400 dead had been killed by Republican paramilitaries. In addition the data also showed that over 25 per cent of those killed by Republicans were Catholic civilians.
---