---

CAIN Web Service
Key Issues of the Northern Ireland Conflict
---
[CAIN_Home]
[Key_Events] [KEY ISSUES] [Conflict_Background]
ISSUES: [Children] [Discrimination] [Education] [Employment] [Housing] [Law_Order] [Media] [Parades] [Policing] [Policy_Initiatives] [Politics/Political_Parties/Elections] [Segregation] [Violence] [Victims_Survivors_Commemoration] [Women]
OTHER ISSUES: [Abstentionism] [Collusion] [Commemoration] [Community_Relations] [Cross-Community_Marriage] [European_Union] [Minority_Languages] [Population] [Reconciliation] [Sport] [Victims]

---
Page Compiled: Martin Melaugh
Material is added to this site on a regular basis - information on this page may change
---
Key Issues of the Northern Ireland Conflict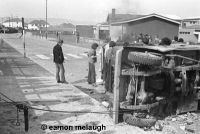 Children and Young People
Three issues that have the common themes of segregation and/or discrimination
Law and Order Issues
The Media and the conflict
Parades in Northern Ireland
Politics, Political Parties and the Electoral System
Victims, Survivors and Commemoration
---
Collusion between Security Forces and Paramilitaries
Commemoration in Northern Ireland
Community Relations in Northern Ireland
The European Union

'The European Union and Relationships Within Ireland', J. Ingraham (1998)
Result of The 2016 Referendum on the European Union
Documents related to the Brexit issue
Minority Languages in Northern Ireland
Mixed Marriages in Northern Ireland
Report on Cross-Community Marriage in Northern Ireland by Gillian Robinson (1992)
Victims of the Northern Ireland Conflict

---
The intention is to provide information on several key issues that have been central to the Northern Ireland Conflict. A similar approach will be adopted for Key Events. It is hoped that these two components, together with the Background Information on the Northern Ireland conflict, will be helpful to those researching, teaching, or studying this subject.

In contrast to the section on Key Events, this one examines issues that have been at the heart of the Northern Ireland 'Troubles' over a long period of time. The basic structure for each of the issues will be the same. Those consulting a particular issue will find: a set of main web pages, a selected reading list, a summary, a time-line, background information, outline of the main themes during the past 30 years, main areas of contention, official statistics, and a list of source material.

In addition to the sections that will be written by the Project Teams and the source material contributed by the Project's partner organisations, the CAIN Project would welcome contributions in the form of articles or source material from individuals or oganisations. Anyone considering making a contribution should consult the CAIN guidelines to preparing such material, and the list of contributors which contains details of the subjects covered to date.
---