CAIN Web Service


Sutton Index of Deaths

---
Bear in mind these dead:
I can find no plainer words
John Hewitt, Neither an elegy nor a Manifesto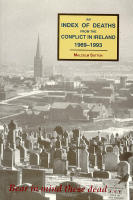 This section contains information on the deaths that have resulted from the conflict in Ireland between 14 July 1969 and 31 December 2001. The information has been provided by Malcolm Sutton and is an updated and revised version of the material that was first published in his 1994 book Bear in mind these dead ... An Index of Deaths from the Conflict in Ireland 1969-1993. All the information that is presented in these pages is copyright © of the author Malcolm Sutton. The CAIN project is grateful for the author's permission to use the information. Anyone wishing to reproduce this material should first contact the the CAIN Director. A newspaper article about Malcolm Sutton's research was published by The Guardian on 19 July 2020.

Before consulting the data it is important that users read the revised and updated extracts from Malcolm Sutton's book and the information on the structure of the database. These sections explain how the information was compiled and also provide a glossary to the terms used throughout the index. Users should also read the notes on the pages consulted as these provide additional information.

The information on the deaths is presented in the following sections:

Statistical tables

basic tabulations (tables) of each variable
crosstabulations (two-way tables) of key variables
selection of a subset of the information and crosstabulation of two variables
See:
Draft list of deaths related to the conflict from 2002 to 2020 (in a single Web page)
and
Draft lists of (yearly) deaths related to the conflict (in separate Web pages):
2002 2003 2004 2005 2006 2007 2008 2009 2010 2011 2012 2013 2014 2015 2016 2017 2018 2019 2020
Compiled by Martin Melaugh
See also:
The Michael McKeown database of deaths.
The CAIN project is grateful to Malcolm Sutton for supplying the information. Thanks to Fionnuala McKenna, then CAIN Research Assistant, for producing a database from the original text documents. The CAIN Project is also grateful to Mike McCool, INCORE, University of Ulster, for developing the database to produce the various web pages.
[Note: Early versions of Microsoft Internet Explorer (IE) did not properly reproduce the tables in the following pages.]
---
Questions regarding these pages should be sent to the CAIN Director (m.melaugh@ulster.ac.uk)
© Malcolm Sutton

---
[menu] [book] [structure] [year] [name] [search] [tables] [crosstabs] [select/crosstabs]