---

CAIN Web Service
'Chapter 1' from: 'STREETWISE: How Taxi Drivers Establish their Customers' Trustworthiness' by Diego Gambetta and Heather Hamill
---
[CAIN_Home]
[Key_Events] [Key_Issues] [Conflict_Background]
VIOLENCE: [Menu] [Reading] [Summary] [Background] [Chronology] [Incidents] [Deaths] [Main_Pages] [Statistics] [Sources]
---
Text: Diego Gambetta and Heather Hamill... Page Compiled: Martin Melaugh

---
The following chapter has been contributed by the authors, Diego Gambetta and Heather Hamill, with the permission of Russell Sage Foundation. The views expressed in this chapter do not necessarily reflect the views of the members of the CAIN Project. The CAIN Project would welcome other material which meets our guidelines for contributions.
---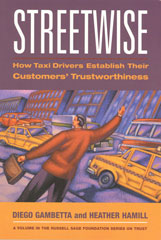 This chapter is taken from the book:
STREETWISE
How Taxi Drivers Establish their Customers' Trustworthiness
by Diego Gambetta and Heather Hamill (2005)
ISBN 978-0-87154-309-7 Paperback 264pp
112 East 64th Street,
New York, NY 10065
USA
This chapter is copyright Diego Gambetta and Heather Hamill 2011 and is included on the CAIN site by permission of the author and the publishers. You may not edit, adapt, or redistribute changed versions of this for other than your personal use without the express written permission of the author or the publisher, Russell Sage Foundation. Redistribution for commercial purposes is not permitted.
---
Introduction and Chapter 1: 'Belfast and Its Taxi Drivers'
Front cover, Introduction, and Chapter 1, are available as a PDF file. [PDF; 924KB]
---
Gambetta, Diego and Heather Hamill. Chapter 1, "Belfast and Its Taxi Drivers." In Streetwise: How Taxi Drivers Establish Customers' Trustworthiness. © 2005 Russell Sage Foundation, 112 East 64th Street, New York, NY 10065. Posted with Permission. Material may not be reposted elsewhere without written permission from Russell Sage Foundation. https://www.russellsage.org/publications/streetwise
---