Initatives on a New Ireland, Shared Island, and Reunification
Details of recent (2018-22) initiatives by political parties, civic organisations, academics, etc.
Ireland's Future
Website

"Ireland's Future was established to advocate for, and promote, debate and discussion about Ireland's future, including the possibility and viability of new constitutional arrangements on the Island." (from website)
Non-political / civic organisation (incorporated as a limited company).
Organises campaigns and associated work, produces reports, promotional material, and arranges events.
Political Parties Initatives and Positions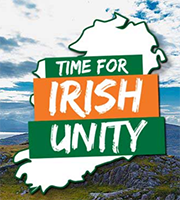 Sinn Fein
A Decade of Opportunity - Towards The New Republic
Website
Sinn Féin's webpage dedicated to the advancement of Irish Unity
Republican / nationalist political party with the core objective of achieving a united Ireland.
SDLP - New Ireland Commission
(launched 20 Jul 2020; news item)


"... the SDLP has established a New Ireland Commission that will seek to engage with every community, sector and generation on this island to build new proposals that can generate a consensus on our future constitutional arrangements." (from website)
Nationalist political party.
First Panel: public services, health services, economy and schools
(launched 6 May 2021; news item)
Alliance Party of Northern Ireland (APNI)
Formed by moderate unionists but currently neutral on the constitutional question.
'Long: Alliance will take a stance on constitution question' - Article in the Belfast News Letter, 6 Mar 2022
'No current case for united Ireland Border poll – Alliance party' - Article in The Irish Times, 7 Mar 2020.
Democratic Unionist Party (DUP)
Unionist political party in favour of maintaining the union with the UK.
'Jeffrey Donaldson: Talk of a united Ireland is 'premature' when the North is not united', - Article in The Irish Times, 25 Sep 2021.

Ulster Unionist Party (UUP)
Unionist political party in favour of maintaining the union with the UK.
'Doug Beattie: Unionism shouldn't engage in united Ireland debate, with poll at least 30 years away' - Article in Belfast Telegraph, 5 Dec 2021
Academic Initiatives
Working Group on Unification Referendums on the Island of Ireland
Website

"A project examining how any future referendum on the constitutional status of Northern Ireland would be best designed and conducted." (from website)
The project was established within The Constitution Unit of University College London (UCL). The Final Report was published on 26 May 2021. The website also contains details of submissions made to the project.

Constitutional Dimensions of Irish Unification
Website

International Association of Constitutional Law (IACL) has established Blog Symposia on a range of topics, one of which is Irish Unification (launched 11 Feb 2020). This section contains 12 Blog contributions which deal with the "constitutional implications of unification, with sections devoted to processes, substantive issues, and external perspectives" (from website).

Civic Space, Institute of Irish Studies
Website

"A new online resource, launched today [6 March 2021] by the University of Liverpool's Institute of Irish Studies with support from parties across the political spectrum, will seek to provide a space for pro-Irish Unity and pro-Union voices to debate the future of the island of Ireland, and the UK." (from website).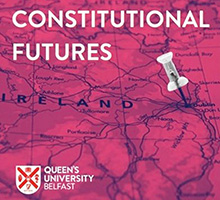 Constitutional Futures Podcast Series, QUB
Website
"Professor Colin Harvey is hosting a series of conversations around the constitutional future of the Island." (from website).
Currently (4 Apr 2022) there are seven episodes in the series.
DCU, IICRR: The Future of the island of Ireland
Website

"Dublin City University's Institute for International Conflict Resolution in establishing this new programme of research will provide rigorous, non-partisan research and analysis on the key issues which are likely to at the heart of a public debate around future 'border polls' on the future constitutional arrangements for the island." (from website).

Irish Government Initiatives

Government of Ireland
- Shared Island Initiative
Webpage
"On 22 October 2020, the Taoiseach Micheál Martin set out the government's vision and priorities for the Shared Island initiative ..." (from website).
National Economic and Social Council (NESC) - Shared Island
Webpage
"NESC is currently undertaking, at the request of the Department of the Taoiseach, a programme of research that is designed to produce a comprehensive report on the Shared Island in late 2021/early 2022." (from website).

President of Ireland
- Shared Ireland, Shared Island
Webpage
An initiative by President Michael D. Higgins.
<!img src="President-of-Ireland_s.png" width="200" height="39" hspace="3" vspace="1" border="1" alt="President of Ireland logo" align="right"/>Seanad Éireann Public Consultation Committee
- Consultation on the Constitutional Future of the Island of Ireland
Webpage
"The purpose of this public consultation is to invite submissions from all the people and interested groups and organisations to consider the constitutional future of the Island of Ireland, listening to the voice of all people on the island and people of all traditions and opinions" (from website). The consultation was launched on 25 July 2022 and the deadline for submissions was 5 September 2022.
Media Resources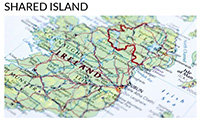 The Irish Times - Shared Island
Webpage
A series of artices in The Irish Times on the theme of a Shared Island. The series started on 5 Sep 2020.
Other Resources
Debatewise page - United Ireland: Yes or no?
Webpage
Outline of some of the arguments for and against a united Ireland
Royal Irish Academy: ARINS
Webpage

The ARINS (Analysing and Researching Ireland North and South) project was established on 11 January 2021 by the Royal Irish Academy (RIA) and the Keough-Naughton Institute for Irish Studies at the University of Notre Dame, USA.
"Authoritative, independent and non-partisan analysis and research on constitutional, institutional and policy options for Ireland, north and south in a post-Brexit context. Research and analysis focuses on three broad areas: Political, constitutional and legal questions; Economic, financial, social and environmental questions; and Cultural and educational questions." (from website)
Shared Ireland Podcasts
Website

An Irish podcast team have compiled a resource of 70 podcasts based on interviews with 'political leaders, public figures and private citizens' holding a wide range of political, economic, and social opinions. The team state, "We believe that a new, shared 32 county Ireland is the way forward and we strive to include all voices in the discussion on the island of Ireland and further afield." (from website)

Wikipedia page - United Ireland
Webpage
Background information on a united Ireland