---

CAIN Web Service
Westminster General Election (NI) Thursday 7 June 2001
---
[CAIN_Home]
[Key_Events]
[KEY_ISSUES]
[Conflict_Background]
POLITICS:
[Menu]
[Reading]
[Articles]
[Government]
[Political_Initiatives]
[Political_Solutions]
[Parties]
[ELECTIONS]
[Polls]
[Sources]
[Peace_Process]
---
Text and Research: Martin Melaugh
Material is added to this site on a regular basis - information on this page may change
---
Westminster General Election (NI) Thursday 7 June 2001
This page contains the results of the 7 June 2001 Westminster General Election.
See also:
Introduction
The following provides the results from the 18 Northern Ireland constituencies where the 2001 Westminster General Election was contested. There were changes to the boundaries of the constituencies since between the Westminster election in 1992 and that in 1997. These changes resulted in one additional constituency and also affected most of the previous 17 constituencies. Direct comparison between the results in 1992 and those in 1997 (and 1992 and 2001) are not therefore possible. The reader should also note that the Democratic Unionist Party (Democratic Unionist Party) and the Ulster Unionist Party (UUP) did not contest some of the constituencies so as not to split the Unionist vote it is not possible therefore to gauge the absolute support of the two parties across the region. This is also true for those parties which did not stand in all the constituencies.

---
Summary of Northern Ireland Results
Eligible Electorate: 1,191,070
Number of Votes Cast (Turnout / Poll): 817,455
Percentage Turnout / Poll: 68.63%
Number of Invalid / Spoilt Votes: 7,074
Number of Valid Votes Cast: 810,381
Percentage Valid Votes Cast: 68.04%

---
| | | | |
| --- | --- | --- | --- |
| Northern Ireland | | | |
| Party | Seats | Votes | %share |
| Ulster Unionist Party | 6 | 216839 | 26.76 |
| Democratic Unionist Party | 5 | 181999 | 22.46 |
| Sinn Féin | 4 | 175932 | 21.71 |
| Social Democratic and Labour Party | 3 | 169873 | 20.96 |
| Alliance Party of Northern Ireland | 0 | 28999 | 3.58 |
| United Kingdon Unionist Party | 0 | 13509 | 1.67 |
| Independent Ulster Unionist | 0 | 6843 | 0.84 |
| Progressive Unionist Party | 0 | 4781 | 0.59 |
| Northern Ireland Women's Coalition | 0 | 2968 | 0.37 |
| Conservative Party | 0 | 2422 | 0.30 |
| Workers' Party | 0 | 2352 | 0.29 |
| Northern Ireland Unionist Party | 0 | 1794 | 0.22 |
| Other Candidates | 0 | 2070 | 0.26 |
| Total | 18 | 810381 | 100.00 |
| | Electorate | Turnout | %turnout |
| | 1191070 | 810381 | 68.04 |
---
Percentage share of the Vote by each of the political parties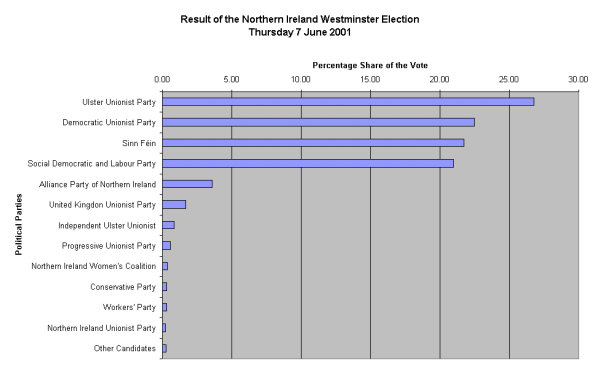 Constituencies won by each of the political parties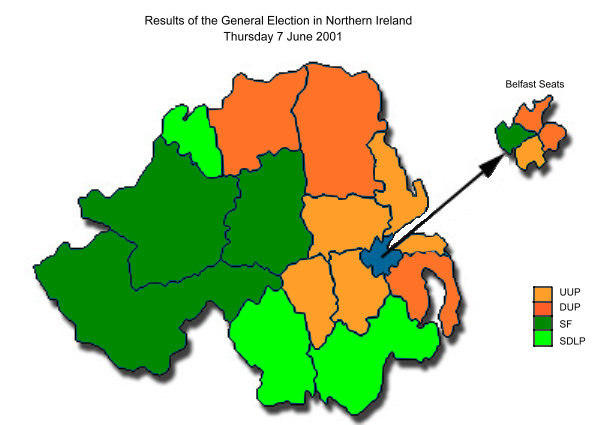 18 Constituency Results
---
| | | | | |
| --- | --- | --- | --- | --- |
| East Antrim | | | | |
| Candidate | Party | Votes | %share | |
| Roy Beggs | Ulster Unionist Party | 13101 | 36.39 | |
| Sammy Wilson | Democratic Unionist Party | 12973 | 36.04 | |
| John Matthews | Alliance Party of Northern Ireland | 4483 | 12.45 | |
| Danny O'Connor | Social Democratic and Labour Party | 2641 | 7.34 | |
| Robert Mason | Independent | 1092 | 3.03 | |
| Janette Graffin | Sinn Féin | 903 | 2.51 | |
| Alan Greer | Conservative Party | 807 | 2.24 | |
| | Total | 36000 | 100.00 | |
| | Electorate | Turnout | %turnout | Majority |
| | 60897 | 36000 | 59.12 | 128 |
---
| | | | | |
| --- | --- | --- | --- | --- |
| North Antrim | | | | |
| Candidate | Party | Votes | %share | |
| Ian Paisley | Democratic Unionist Party | 24539 | 49.86 | |
| Lexie Scott | Ulster Unionist Party | 10315 | 20.96 | |
| Sean Farren | Social Democratic and Labour Party | 8283 | 16.83 | |
| John Kelly | Sinn Féin | 4822 | 9.80 | |
| Jayne Dunlop | Alliance Party of Northern Ireland | 1258 | 2.56 | |
| | Total | 49217 | 100.00 | |
| | Electorate | Turnout | %turnout | Majority |
| | 74451 | 49217 | 66.11 | 14224 |
---
| | | | | |
| --- | --- | --- | --- | --- |
| South Antrim | | | | |
| Candidate | Party | Votes | %share | |
| David Burnside | Ulster Unionist Party | 16366 | 37.06 | |
| Willie McCrea | Democratic Unionist Party | 15355 | 34.77 | |
| Sean McKee | Social Democratic and Labour Party | 5336 | 12.08 | |
| Martin Meehan | Sinn Féin | 4160 | 9.42 | |
| David Ford | Alliance Party of Northern Ireland | 1969 | 4.46 | |
| Norman Boyd | Northern Ireland Unionist Party | 972 | 2.20 | |
| | Total | 44158 | 100.00 | |
| | Electorate | Turnout | %turnout | Majority |
| | 70651 | 44158 | 62.50 | 1011 |
---
| | | | | |
| --- | --- | --- | --- | --- |
| Belfast East | | | | |
| Candidate | Party | Votes | %share | |
| Peter Robinson | Democratic Unionist Party | 15667 | 42.53 | |
| Tim Lemon | Ulster Unionist Party | 8550 | 23.21 | |
| David Alderdice | Alliance Party of Northern Ireland | 5832 | 15.83 | |
| David Ervine | Progressive Unionist Party | 3669 | 9.96 | |
| Joseph Gerard O'Donnell | Sinn Féin | 1237 | 3.36 | |
| Ciara Farren | Social Democratic and Labour Party | 888 | 2.41 | |
| Terry Dick | Conservative Party | 800 | 2.17 | |
| Joseph Bell | Workers Party | 123 | 0.33 | |
| Rainbow George Weiss | Vote For Yourself | 71 | 0.19 | |
| | Total | 36837 | 100.00 | |
| | Electorate | Turnout | %turnout | Majority |
| | 58455 | 36837 | 63.02 | 7117 |
---
| | | | | |
| --- | --- | --- | --- | --- |
| Belfast North | | | | |
| Candidate | Party | Votes | %share | |
| Nigel Dodds | Democratic Unionist Party | 16718 | 40.84 | |
| Gerry Kelly | Sinn Féin | 10331 | 25.24 | |
| Alban Maginness | Social Democratic and Labour Party | 8592 | 20.99 | |
| Cecil Walker | Ulster Unionist Party | 4904 | 11.98 | |
| Marcella Delaney | The Workers' Party | 253 | 0.62 | |
| Rainbow George Weiss | Vote For Yourself | 134 | 0.33 | |
| | Total | 40932 | 100.00 | |
| | Electorate | Turnout | %turnout | Majority |
| | 60941 | 40932 | 67.17 | 6387 |
---
| | | | | |
| --- | --- | --- | --- | --- |
| Belfast South | | | | |
| Candidate | Party | Votes | %share | |
| Martin Smyth | Ulster Unionist Party | 17008 | 44.81 | |
| Alasdair McDonnell | Social Democratic and Labour Party | 11609 | 30.59 | |
| Monica McWilliams | Northern Ireland Women's Coalition | 2968 | 7.82 | |
| Alex Maskey | Sinn Féin | 2894 | 7.63 | |
| Geraldine Rice | Alliance Party of Northern Ireland | 2042 | 5.38 | |
| Dawn Purvis | Progressive Unionist Party | 1112 | 2.93 | |
| Patrick Joseph Lynch | The Workers' Party | 204 | 0.54 | |
| Rainbow George Weiss | Vote For Yourself | 115 | 0.30 | |
| | Total | 37952 | 100.00 | |
| | Electorate | Turnout | %turnout | Majority |
| | 59436 | 37952 | 63.85 | 5399 |
---
| | | | | |
| --- | --- | --- | --- | --- |
| Belfast West | | | | |
| Candidate | Party | Votes | %share | |
| Gerry Adams | Sinn Féin | 27096 | 66.12 | |
| Alex Attwood | Social Democratic and Labour Party | 7754 | 18.92 | |
| Eric Smyth | Democratic Unionist Party | 2641 | 6.44 | |
| Chris McGimpsey | Ulster Unionist Party | 2541 | 6.20 | |
| John Lowry | Workers Party | 736 | 1.80 | |
| David Kerr | Ulster Third Way | 116 | 0.28 | |
| Rainbow George Weiss | Vote for Yourself | 98 | 0.24 | |
| | Total | 40982 | 100.00 | |
| | Electorate | Turnout | %turnout | Majority |
| | 59617 | 40982 | 68.74 | 19342 |
---
| | | | | |
| --- | --- | --- | --- | --- |
| North Down | | | | |
| Candidate | Party | Votes | %share | |
| Sylvia Hermon | Ulster Unionist Party | 20833 | 56.02 | |
| Bob McCartney | United Kingdom Unionist Party | 13509 | 36.33 | |
| Marietta Farrell | Social Democratic and Labour Party | 1275 | 3.43 | |
| Julian Robertson | Conservative Party | 815 | 2.19 | |
| Chris Carter | Ulster Independent Voice | 444 | 1.19 | |
| Eamon McConvey | Sinn Féin | 313 | 0.84 | |
| | Total | 37189 | 100.00 | |
| | Electorate | Turnout | %turnout | Majority |
| | 63212 | 37189 | 58.83 | 7324 |
---
| | | | | |
| --- | --- | --- | --- | --- |
| South Down | | | | |
| Candidate | Party | Votes | %share | |
| Eddie McGrady | Social Democratic and Labour Party | 24136 | 46.35 | |
| Mick Murphy | Sinn Féin | 10278 | 19.74 | |
| Dermot Nesbitt | Ulster Unionist Party | 9173 | 17.62 | |
| Jim Wells | Democratic Unionist Party | 7802 | 14.98 | |
| Betty Campbell | Alliance Party of Northern Ireland | 685 | 1.32 | |
| | Total | 52074 | 100.00 | |
| | Electorate | Turnout | %turnout | Majority |
| | 73519 | 52074 | 70.83 | 13858 |
---
Fermanagh and South Tyrone
Candidate
Party

Votes

%share

Michelle Gildernew

Sinn Féin

17739

34.13

James Cooper

Ulster Unionist Party

17686

34.03

Tommy Gallagher

Social Democratic and Labour Party

9706

18.67

Jim Dixon

Independent Ulster Unionist

6843

13.17

Total

51974

100.00

Electorate

Turnout

%turnout

Majority

66640

51974

77.99

53
---
| | | | | |
| --- | --- | --- | --- | --- |
| Foyle | | | | |
| Candidate | Party | Votes | %share | |
| John Hume | Social Democratic and Labour Party | 24538 | 50.20 | |
| Mitchel McLaughlin | Sinn Féin | 12988 | 26.57 | |
| William Hay | Democratic Unionist Party | 7414 | 15.17 | |
| Andrew Davidson | Ulster Unionist Party | 3360 | 6.87 | |
| Colm Cavanagh | Alliance Party of Northern Ireland | 579 | 1.18 | |
| | Total | 48879 | 100.00 | |
| | Electorate | Turnout | %turnout | Majority |
| | 70943 | 48879 | 68.90 | 11550 |
---
| | | | | |
| --- | --- | --- | --- | --- |
| Lagan Valley | | | | |
| Candidate | Party | Votes | %share | |
| Jeffrey Donaldson | Ulster Unionist Party | 25966 | 56.52 | |
| Seamus Close | Alliance Party of Northern Ireland | 7624 | 16.60 | |
| Edwin Poots | Democratic Unionist Party | 6164 | 13.42 | |
| Patricia Lewsley | Social Democratic and Labour Party | 3462 | 7.54 | |
| Paul Butler | Sinn Féin | 2725 | 5.93 | |
| | Total | 45941 | 100.00 | |
| | Electorate | Turnout | %turnout | Majority |
| | 72671 | 45941 | 63.22 | 18342 |
---
| | | | | |
| --- | --- | --- | --- | --- |
| East Londonderry | | | | |
| Candidate | Party | Votes | %share | |
| Gregory Campbell | Democratic Unionist Party | 12813 | 32.14 | |
| Willie Ross | Ulster Unionist Party | 10912 | 27.37 | |
| John Dallat | Social Democratic and Labour Party | 8298 | 20.81 | |
| Francie Brolly | Sinn Féin | 6221 | 15.60 | |
| Yvonne Boyle | Alliance Party of Northern Ireland | 1625 | 4.08 | |
| | Total | 39869 | 100.00 | |
| | Electorate | Turnout | %turnout | Majority |
| | 60276 | 39869 | 66.14 | 1901 |
---
| | | | | |
| --- | --- | --- | --- | --- |
| Mid Ulster | | | | |
| Candidate | Party | Votes | %share | |
| Martin McGuinness | Sinn Féin | 25502 | 51.07 | |
| Ian McCrea | Democratic Unionist Party | 15549 | 31.14 | |
| Eilish Haughey | Social Democratic and Labour Party | 8376 | 16.77 | |
| Francie Donnelly | The Workers' Party | 509 | 1.02 | |
| | Total | 49936 | 100.00 | |
| | Electorate | Turnout | %turnout | Majority |
| | 61390 | 49936 | 81.34 | 9953 |
---
| | | | | |
| --- | --- | --- | --- | --- |
| Newry and Armagh | | | | |
| Candidate | Party | Votes | %share | |
| Seamus Mallon | Social Democratic and Labour Party | 20784 | 37.37 | |
| Conor Murphy | Sinn Féin | 17209 | 30.94 | |
| Paul Berry | Democratic Unionist Party | 10795 | 19.41 | |
| Sylvia McRoberts | Ulster Unionist Party | 6833 | 12.28 | |
| | Total | 55621 | 100.00 | |
| | Electorate | Turnout | %turnout | Majority |
| | 72466 | 55621 | 76.75 | 3575 |
---
| | | | | |
| --- | --- | --- | --- | --- |
| Strangford | | | | |
| Candidate | Party | Votes | %share | |
| Iris Robinson | Democratic Unionist Party | 18532 | 42.84 | |
| David McNarry | Ulster Unionist Party | 17422 | 40.28 | |
| Kieran McCarthy | Alliance Party of Northern Ireland | 2902 | 6.71 | |
| Danny McCarthy | Social Democratic and Labour Party | 2646 | 6.12 | |
| Liam Johnson | Sinn Féin | 930 | 2.15 | |
| Cedric Wilson | Northern Ireland Unionist Party | 822 | 1.90 | |
| | Total | 43254 | 100.00 | |
| | Electorate | Turnout | %turnout | Majority |
| | 72192 | 43254 | 59.92 | 1110 |
---
| | | | | |
| --- | --- | --- | --- | --- |
| West Tyrone | | | | |
| Candidate | Party | Votes | %share | |
| Pat Doherty | Sinn Féin | 19814 | 40.83 | |
| Willie Thompson | Ulster Unionist Party | 14774 | 30.44 | |
| Brid Rodgers | Social Democratic and Labour Party | 13942 | 28.73 | |
| | Total | 48530 | 100.00 | |
| | Electorate | Turnout | %turnout | Majority |
| | 60739 | 48530 | 79.90 | 5040 |
---
| | | | | |
| --- | --- | --- | --- | --- |
| Upper Bann | | | | |
| Candidate | Party | Votes | %share | |
| David Trimble | Ulster Unionist Party | 17095 | 33.50 | |
| David Simpson | Democratic Unionist Party | 15037 | 29.46 | |
| Dara O'Hagan | Sinn Féin | 10770 | 21.10 | |
| Dolores Kelly | Social Democratic and Labour Party | 7607 | 14.91 | |
| Tom French | The Workers' Party | 527 | 1.03 | |
| | Total | 51036 | 100.00 | |
| | Electorate | Turnout | %turnout | Majority |
| | 72574 | 51036 | 70.32 | 2058 |
---