---

CAIN Web Service
Westminster General Election (NI) Thursday 7 May 2015
---
[CAIN_Home]
[Key_Events]
[KEY_ISSUES]
[Conflict_Background]
POLITICS:
[Menu]
[Reading]
[Articles]
[Government]
[Political_Initiatives]
[Political_Solutions]
[Parties]
[ELECTIONS]
[Polls]
[Sources]
[Peace_Process]
---
Page Compiled: Martin Melaugh
Material is added to this site on a regular basis - information on this page may change
---
Westminster General Election (NI) Thursday 7 May 2015
This page contains the results of the 7 May 2015 Westminster General Election.
See also:
Introduction
This page contains the results from the 18 Northern Ireland constituencies where the 2015 Westminster General Election was contested. 138 people stood for election to the 18 Westminster seats. Voting in the election was by the 'first past the post' method. The election took place on Thursday 7 May 2015 between 7.00am and 10.00pm and counting began at 10.00pm on Thursday 7 May.
The Alliance Party of Northern Ireland (APNI), the Social Democratic and Labour Party (SDLP), and Sinn Féin (SF), each contested all 18 constituencies. The Democratic Unionist Party (DUP) and the Ulster Unionist Party (UUP) agreed an electoral pact in four constituencies: Belfast East; Belfast North; Fermanagh and South Tyrone; and Newry and Armagh. The Conservative Party (CP) did not contest Belfast North nor Fermanagh and South Tyrone. Thus, this general election was not a full test of the individual electoral support for these parties.
There were changes to the boundaries of the constituencies between the Westminster election in 1992 and that in 1997. These changes resulted in one additional constituency and also affected most of the previous 17 constituencies. While comparisons between the results in 2015, 2010, 2005, 2001, and 1997 are possible, direct comparision with earlier elections are not.
---
Summary of Northern Ireland Results
Eligible Electorate: 1,236,756
Number of Votes Cast (Turnout / Poll): 722,872
Percentage Turnout / Poll: 58.45%
Number of Invalid / Spoilt Votes: 4,769
Number of Valid Votes Cast: 718,103
Percentage Valid Votes Cast: 58.06%
---
| | | | |
| --- | --- | --- | --- |
| Northern Ireland | | | |
| Party / Independent Candidate | Seats | Valid Votes | %share |
| Democratic Unionist Party (DUP) | 8 | 184,260 | 25.66 |
| Sinn Féin (SF) | 4 | 176,232 | 24.54 |
| Ulster Unionist Party (UUP) | 2 | 114,935 | 16.01 |
| Social Democratic and Labour Party (SDLP) | 3 | 99,809 | 13.90 |
| Alliance Party of Northern Ireland (APNI) | 0 | 61,556 | 8.57 |
| UK Independence Party (UKIP) | 0 | 18,324 | 2.55 |
| Independent unionist | 1 | 17,689 | 2.46 |
| Traditional Unionist Voice (TUV) | 0 | 16,538 | 2.30 |
| Conservative Party (CP) | 0 | 9,055 | 1.26 |
| Green Party (GP) | 0 | 6,822 | 0.95 |
| People Before Profit Alliance (PBPA) | 0 | 6,798 | 0.95 |
| The Workers Party (WP) | 0 | 2,724 | 0.38 |
| Cannabis is Safer than Alcohol (CISTA) | 0 | 1,853 | 0.26 |
| Independents | 0 | 1,508 | 0.21 |
| Total | 18 | 718,103 | 100.00 |
| Spoilt Votes | | 4,769 | |
| | Electorate | Turnout | %turnout |
| | 1,236,765 | 722,872 | 58.45 |
---
Constituencies won by each of the political parties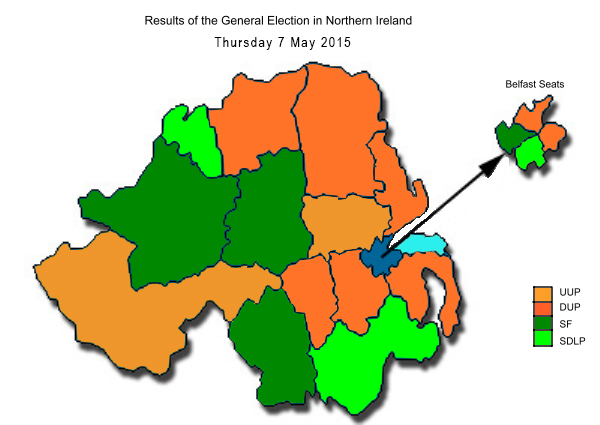 18 Constituency Results
---
| | | | | |
| --- | --- | --- | --- | --- |
| East Antrim | | | | |
| Candidate | Party | Votes | %share | |
| Wilson, Sammy | Democratic Unionist Party (DUP) [Hold] | 12,103 | 36.13 | |
| Beggs, Roy | Ulster Unionist Party (UUP) | 6,308 | 18.83 | |
| Dickson, Stewart | Alliance Party of Northern Ireland (APNI) | 5,021 | 14.99 | |
| Jordan, Noel | UK Independence Party (UKIP) | 3,660 | 10.93 | |
| McMullan, Oliver | Sinn Féin (SF) | 2,314 | 6.91 | |
| Wilson, Ruth | Traditional Unionist Voice (TUV) | 1,903 | 5.68 | |
| McKillop, Margaret Anne | Social Democratic and Labour Party (SDLP) | 1,639 | 4.89 | |
| Wilson, Alex | Conservative Party (CP) | 549 | 1.64 | |
| | Total Valid Votes | 33,497 | 100.00 | |
| | Spoilt Votes | 191 | | |
| | Electorate | Turnout | %turnout | Majority |
| | 62,811 | 33,688 | 53.63 | 5,795 |
---
| | | | | |
| --- | --- | --- | --- | --- |
| North Antrim | | | | |
| Candidate | Party | Votes | %share | |
| Paisley, Ian R K | Democratic Unionist Party (DUP) [Hold] | 18,107 | 43.21 | |
| Gaston, Timothy | Traditional Unionist Voice (TUV) | 6,561 | 15.66 | |
| McKay, Daithí Gerard | Sinn Féin (SF) | 5,143 | 12.27 | |
| Swann, Robin | Ulster Unionist Party (UUP) | 5,054 | 12.06 | |
| O'Loan, Declan | Social Democratic and Labour Party (SDLP) | 2,925 | 6.98 | |
| Dunlop, Jayne | Alliance Party of Northern Ireland (APNI) | 2,351 | 5.61 | |
| Hill, Robert | UK Independence Party (UKIP) | 1,341 | 3.20 | |
| Freeman, Carol | Conservative Party (CP) | 368 | 0.88 | |
| Palmer, Thomas Stephen | Independent | 57 | 0.14 | |
| | Total Valid Votes | 41,907 | 100.00 | |
| | Spoilt Votes | 209 | | |
| | Electorate | Turnout | %turnout | Majority |
| | 75,876 | 42,116 | 55.51 | 11,546 |
---
| | | | | |
| --- | --- | --- | --- | --- |
| South Antrim | | | | |
| Candidate | Party | Votes | %share | |
| Kinahan, Danny | Ulster Unionist Party (UUP) [Gain from DUP] | 11,942 | 32.70 | |
| McCrea, Robert Thomas William | Democratic Unionist Party (DUP) | 10,993 | 30.10 | |
| Kearney, Alan | Sinn Féin (SF) | 4,699 | 12.87 | |
| Kelly, Neil | Alliance Party of Northern Ireland (APNI) | 3,576 | 9.79 | |
| Lynch, Roisin | Social Democratic and Labour Party (SDLP) | 2,990 | 8.19 | |
| Cairns, Richard | Traditional Unionist Voice (TUV) | 1,908 | 5.22 | |
| Dunlop, Alan | Conservative Party (CP) | 415 | 1.14 | |
| | Total Valid Votes | 36,523 | 100.00 | |
| | Spoilt Votes | 211 | | |
| | Electorate | Turnout | %turnout | Majority |
| | 67,425 | 36,734 | 54.48 | 949 |
---
| | | | | |
| --- | --- | --- | --- | --- |
| Belfast East | | | | |
| Candidate | Party | Votes | %share | |
| Robinson, Gavin | Democratic Unionist Party (DUP) [Gain from APNI] | 19,575 | 49.33 | |
| Long, Naomi | Alliance Party of Northern Ireland (APNI) | 16,978 | 42.79 | |
| Wilson, Neil | Conservative Party (CP) | 1,121 | 2.82 | |
| Brown, Ross | Green Party (GP) | 1,058 | 2.67 | |
| Ó Donnghaile, Niall | Sinn Féin (SF) | 823 | 2.07 | |
| Muldoon, Mary | Social Democratic and Labour Party (SDLP) | 127 | 0.32 | |
| | Total Valid Votes | 39,682 | 100.00 | |
| | Spoilt Votes | 178 | | |
| | Electorate | Turnout | %turnout | Majority |
| | 63,157 | 39,860 | 63.11 | 2,597 |
---
| | | | | |
| --- | --- | --- | --- | --- |
| Belfast North | | | | |
| Candidate | Party | Votes | %share | |
| Dodds, Nigel | Democratic Unionist Party (DUP) [Hold] | 19,096 | 47.04 | |
| Kelly, Gerry | Sinn Féin (SF) | 13,770 | 33.92 | |
| Maginness, Alban | Social Democratic and Labour Party (SDLP) | 3,338 | 8.22 | |
| O'Neill, Jason | Alliance Party of Northern Ireland (APNI) | 2,941 | 7.25 | |
| Weir, Gemma | The Workers Party (WP) | 919 | 2.26 | |
| Hughes, Fra | Independent | 529 | 1.30 | |
| | Total Valid Votes | 40,593 | | |
| | Spolit Votes | 294 | | |
| | Electorate | Turnout | %turnout | Majority |
| | 68,553 | 40,887 | 59.64 | 5326 |
---
| | | | | |
| --- | --- | --- | --- | --- |
| Belfast South | | | | |
| Candidate | Party | Votes | %share | |
| McDonnell, Alasdair | Social Democratic and Labour Party (SDLP) [Hold] | 9,560 | 24.54 | |
| Bell, Jonathan Fergus | Democratic Unionist Party (DUP) | 8,654 | 22.21 | |
| Bradshaw, Paula | Alliance Party of Northern Ireland (APNI) | 6,711 | 17.23 | |
| Ó Muilleoir, Máirtin | Sinn Féin (SF) | 5,402 | 13.87 | |
| McCune, Rodney James | Ulster Unionist Party (UUP) | 3,549 | 9.11 | |
| Bailey, Clare | Green Party (GP) | 2,238 | 5.74 | |
| Stoker, Bob | UK Independence Party (UKIP) | 1,900 | 4.88 | |
| Manton, Ben | Conservative Party (CP) | 582 | 1.49 | |
| Kerr, Lily | The Workers Party (WP) | 361 | 0.93 | |
| | Total Valid Votes | 38,957 | 100.00 | |
| | Spoilt Votes | 183 | | |
| | Electorate | Turnout | %turnout | Majority |
| | 64,927 | 39,140 | 60.28 | 906 |
---
| | | | | |
| --- | --- | --- | --- | --- |
| Belfast West | | | | |
| Candidate | Party | Votes | %share | |
| Maskey, Paul | Sinn Féin (SF) [Hold] | 19,163 | 54.24 | |
| Carroll, Gerry | People Before Profit Alliance (PBPA) | 6,798 | 19.24 | |
| Attwood, Alex | Social Democratic and Labour Party (SDLP) | 3,475 | 9.84 | |
| McCoubrey, Frank | Democratic Unionist Party (DUP) | 2,773 | 7.85 | |
| Manwaring, Bill | Ulster Unionist Party (UUP) | 1,088 | 3.08 | |
| Higginson, Brian | UK Independence Party (UKIP) | 765 | 2.17 | |
| Catney, Gerard | Alliance Party of Northern Ireland (APNI) | 636 | 1.80 | |
| Lowry, John Terrence | The Workers Party (WP) | 597 | 1.69 | |
| Shea, Paul Simon | Conservative Party (CP) | 34 | 0.10 | |
| | Total Valid Votes | 35,329 | 100.00 | |
| | | 281 | | |
| | Electorate | Turnout | %turnout | Majority |
| | 62,697 | 35,610 | 56.80 | 12365 |
---
| | | | | |
| --- | --- | --- | --- | --- |
| North Down | | | | |
| Candidate | Party | Votes | %share | |
| Hermon, Sylvia | Independent [Hold] | 17,689 | 49.21 | |
| Easton, Alex | Democratic Unionist Party (DUP) | 8,487 | 23.61 | |
| Muir, Andrew | Alliance Party of Northern Ireland (APNI) | 3,086 | 8.58 | |
| Agnew, Steven | Green Party (GP) | 1,958 | 5.45 | |
| Brotherston, Mark | Conservative Party (CP) | 1,593 | 4.43 | |
| Lavery, Jonny | UK Independence Party (UKIP) | 1,482 | 4.12 | |
| Cudworth, William | Traditional Unionist Voice (TUV) | 686 | 1.91 | |
| Woolley, Tom | Social Democratic and Labour Party (SDLP) | 355 | 0.99 | |
| Donnelly, Glen | Cannabis is Safer than Alcohol (CISTA) | 338 | 0.94 | |
| McCartney, Therese | Sinn Féin (SF) | 273 | 0.76 | |
| | Total Valid Votes | 35,947 | 100.00 | |
| | Spoilt Votes | 97 | | |
| | Electorate | Turnout | %turnout | Majority |
| | 64,207 | 36,044 | 56.14 | 9202 |
---
| | | | | |
| --- | --- | --- | --- | --- |
| South Down | | | | |
| Candidate | Party | Votes | %share | |
| Ritchie, Margaret | Social Democratic and Labour Party (SDLP) [Hold] | 18,077 | 42.34 | |
| Hazzard, Chris | Sinn Féin (SF) | 12,186 | 28.54 | |
| McKee, Harold | Ulster Unionist Party (UUP) | 3,964 | 9.28 | |
| Wells, Jim | Democratic Unionist Party (DUP) | 3,486 | 8.16 | |
| Reilly, Henry | UK Independence Party (UKIP) | 3,044 | 7.13 | |
| Todd, Martyn | Alliance Party of Northern Ireland (APNI) | 1,622 | 3.80 | |
| Buchan, Felicity | Conservative Party (CP) | 318 | 0.74 | |
| | Total Valid Votes | 42,697 | 100.00 | |
| | Spoilt Votes | 303 | | |
| | Electorate | Turnout | %turnout | Majority |
| | 75,220 | 43,000 | 57.17 | 5891 |
---
Fermanagh and South Tyrone
Candidate
Party

Votes

%share

Elliott, Tom
Ulster Unionist Party (UUP) [Gain from SF]
23,608
46.41
Michelle, Gildernew
Sinn Féin (SF)
23,078
45.37
Coyle, John
Social Democratic and Labour Party (SDLP)
2,732
5.37
Jones, Tanya
Green Party (GP)
788
1.55
Su, Hannah
Alliance Party of Northern Ireland (APNI)
658
1.29
Total Valid Votes
50,864
100.00
Spoilt Votes
286
Electorate
Turnout
%turnout
Majority
70,108
51,150
72.96
530
---
| | | | | |
| --- | --- | --- | --- | --- |
| Foyle | | | | |
| Candidate | Party | Votes | %share | |
| Durkan, Mark | Social Democratic and Labour Party (SDLP) [Hold] | 17,725 | 47.90 | |
| Ó Heára, Gearóid | Sinn Féin (SF) | 11,679 | 31.56 | |
| Middleton, Gary | Democratic Unionist Party (DUP) | 4,573 | 12.36 | |
| Kee, Julia | Ulster Unionist Party (UUP) | 1,226 | 3.31 | |
| Hawthorne, David | Alliance Party of Northern Ireland (APNI) | 835 | 2.26 | |
| Thompson, Kyle James | UK Independence Party (UKIP) | 832 | | |
| Badenoch, Hamish Alexander | Conservative Party (CP) | 132 | 0.36 | |
| | Total Valid Votes | 37,002 | 97.75 | |
| | Spoilt Votes | 526 | | |
| | Electorate | Turnout | %turnout | Majority |
| | 70,036 | 37,528 | 53.58 | 6046 |
---
| | | | | |
| --- | --- | --- | --- | --- |
| Lagan Valley | | | | |
| Candidate | Party | Votes | %share | |
| Donaldson, Jeffrey | Democratic Unionist Party (DUP) [Hold] | 19,055 | 47.88 | |
| Redpath, Alexander | Ulster Unionist Party (UUP) | 6,055 | 15.22 | |
| Lunn, Trevor | Alliance Party of Northern Ireland (APNI) | 5,544 | 13.93 | |
| Catney, Pat | Social Democratic and Labour Party (SDLP) | 2,500 | 6.28 | |
| Love, Alan | UK Independence Party (UKIP) | 2,200 | 5.53 | |
| Morrison, Samuel | Traditional Unionist Voice (TUV) | 1,887 | | |
| McGeough, Jacqui | Sinn Féin (SF) | 1,144 | | |
| Orr, Jonny | Independent) | 756 | | |
| Osborne, Helen | Conservative Party (CP) | 654 | 1.64 | |
| | Total Valid Votes | 39,795 | 90.48 | |
| | Spoilt Votes | 191 | | |
| | Electorate | Turnout | %turnout | Majority |
| | 71,152 | 39,986 | 56.20 | 13000 |
---
| | | | | |
| --- | --- | --- | --- | --- |
| East Londonderry | | | | |
| Candidate | Party | Votes | %share | |
| Campbell, Gregory | Democratic Unionist Party (DUP) [Hold] | 14,663 | 42.24 | |
| Archibald, Caoimhe | Sinn Féin (SF) | 6,859 | 19.76 | |
| McCandless, William | Ulster Unionist Party (UUP) | 5,333 | 15.36 | |
| Mullan, Gerry | Social Democratic and Labour Party (SDLP) | 4,268 | 12.29 | |
| Boyle, Yvonne | Alliance Party of Northern Ireland (APNI) | 2,642 | 7.61 | |
| Paine, Neil Jason | Cannabis is Safer than Alcohol (CISTA) | 527 | 1.52 | |
| St Clair-Legge, Elizabeth Anne | Conservative Party (CP) | 422 | 1.22 | |
| | Total Valid Votes | 34,714 | 100.00 | |
| | Spoilt Votes | 251 | | |
| | Electorate | Turnout | %turnout | Majority |
| | 66,926 | 34,965 | 52.24 | 7,804 |
---
| | | | | |
| --- | --- | --- | --- | --- |
| Mid Ulster | | | | |
| Candidate | Party | Votes | %share | |
| Molloy, Francie | Sinn Féin (SF) [Hold] | 19,935 | 48.71 | |
| Overend, Sandra | Ulster Unionist Party (UUP) | 6,318 | 15.44 | |
| McCrea, Ian | Democratic Unionist Party (DUP) | 5,465 | 13.35 | |
| Quinn, Malachy | Social Democratic and Labour Party (SDLP) | 5,055 | 12.35 | |
| Ferguson, Gareth | Traditional Unionist Voice (TUV) | 1,892 | 4.62 | |
| Day, Alan Thomas | UK Independence Party (UKIP) | 863 | | |
| Bullick, Eric | Alliance Party of Northern Ireland (APNI) | 778 | | |
| Scullion, Hugh Francis | The Workers Party (WP) | 496 | | |
| Nicholson, Lucille Diana | Conservative Party (CP) | 120 | 0.29 | |
| | Total Valid Votes | 40,922 | 94.78 | |
| | Spolit Votes | 395 | | |
| | Electorate | Turnout | %turnout | Majority |
| | 67,832 | 41,317 | 60.91 | 13,617 |
---
| | | | | |
| --- | --- | --- | --- | --- |
| Newry and Armagh | | | | |
| Candidate | Party | Votes | %share | |
| Brady, Mickey | Sinn Féin (SF) [Hold] | 20,488 | 41.08 | |
| Kennedy, Danny | Ulster Unionist Party (UUP) | 16,312 | 32.70 | |
| McNulty, Justin | Social Democratic and Labour Party (SDLP) | 12,026 | 24.11 | |
| Nicholl, Kate Siobhan | Alliance Party of Northern Ireland (APNI) | 841 | 1.69 | |
| Rigby, Robert | Conservative Party (CP) | 210 | 0.42 | |
| | Total Valid Votes | 49,877 | 100.00 | |
| | Spoilt Votes | 386 | | |
| | Electorate | Turnout | %turnout | Majority |
| | 77,633 | 50,263 | 64.74 | 4176 |
---
| | | | | |
| --- | --- | --- | --- | --- |
| Strangford | | | | |
| Candidate | Party | Votes | %share | |
| Shannon, Jim | Democratic Unionist Party (DUP) [Hold] | 15,053 | 44.37 | |
| Burgess, Robert | Ulster Unionist Party (UUP) | 4,868 | 14.35 | |
| Armstrong, Kellie | Alliance Party of Northern Ireland (APNI) | 4,687 | 13.82 | |
| Boyle, Joe | Social Democratic and Labour Party (SDLP) | 2,335 | 6.88 | |
| Jordan, Joe | UK Independence Party (UKIP) | 2,237 | 6.59 | |
| Andrews, Johnny | Conservative Party (CP) | 2,167 | 6.39 | |
| Cooper, Stephen | Traditional Unionist Voice (TUV) | 1,701 | 5.01 | |
| Bailie, Sheila | Sinn Féin (SF) | 876 | 2.58 | |
| | Total Valid Votes | 33,924 | 100.00 | |
| | Spoilt Votes | 180 | | |
| | Electorate | Turnout | %turnout | Majority |
| | 64,289 | 34,104 | 53.05 | 10,185 |
---
| | | | | |
| --- | --- | --- | --- | --- |
| Upper Bann | | | | |
| Candidate | Party | Votes | %share | |
| Simpson, David | Democratic Unionist Party (DUP) [Hold] | 15,430 | 32.68 | |
| Dobson, Jo-Anne | Ulster Unionist Party (UUP) | 13,166 | 27.88 | |
| Seeley, Catherine | Sinn Féin (SF) | 11,593 | 24.55 | |
| Kelly, Dolores | Social Democratic and Labour Party (SDLP) | 4,238 | 8.98 | |
| Lavery, Peter | Alliance Party of Northern Ireland (APNI) | 1,780 | 3.77 | |
| Kelly, Martin | Cannabis is Safer than Alcohol (CISTA) | 460 | 0.97 | |
| Harte, Damien Thomas | The Workers Party (WP) | 351 | 0.74 | |
| Bhogal, Amandeep Singh | Conservative Party (CP) | 201 | 0.43 | |
| | Total Valid Votes | 47,219 | 100.00 | |
| | Spoilt Votes | 254 | | |
| | Electorate | Turnout | %turnout | Majority |
| | 80,060 | 47,473 | 59.30 | 2,264 |
---
| | | | | |
| --- | --- | --- | --- | --- |
| West Tyrone | | | | |
| Candidate | Party | Votes | %share | |
| Doherty, Pat | Sinn Féin (SF) [Hold] | 16,807 | 43.48 | |
| Buchanan, Thomas Ernest | Democratic Unionist Party (DUP) | 6,747 | 17.45 | |
| McCrossan, Daniel | Social Democratic and Labour Party (SDLP) | 6,444 | 16.67 | |
| Hussey, Ross | Ulster Unionist Party (UUP) | 6,144 | 15.89 | |
| Donnelly, Stephen | Alliance Party of Northern Ireland (APNI) | 869 | 2.25 | |
| McClean, Ciaran | Green Party (GP) | 780 | 2.02 | |
| Brown, Barry | Cannabis is Safer than Alcohol (CISTA) | 528 | 1.37 | |
| Leyland, Claire-Louise | Conservative Party (CP) | 169 | 0.44 | |
| White, Susan-Ann | Independent | 166 | 0.43 | |
| | Total Valid Votes | 38,654 | 100.00 | |
| | Spoilt Votes | 353 | | |
| | Electorate | Turnout | %turnout | Majority |
| | 63,856 | 39,007 | 61.09 | 10,060 |
---