---

CAIN Web Service
Extracts from 'Omagh: Voices of Loss', by Graham Spencer (2005)
---
[CAIN_Home]
[Key_Events] Key_Issues] [Conflict_Background]
OMAGH BOMB: [Menu] [The_Dead] <!a href="/events/omagh/sum.htm">[Summary] <!a href="/events/omagh/bac.htm">[Background] [Events] [Sources]

---
Text: Graham Spencer... Page Compiled: Brendan Lynn

---
The following extracts have been contributed by the author Graham Spencer, with the permission of Stanley McCombe and the publisher, Appletree Press Ltd. The views expressed in these extracts do not necessarily reflect the views of the members of the CAIN Project. The CAIN Project would welcome other material which meets our guidelines for contributions.
---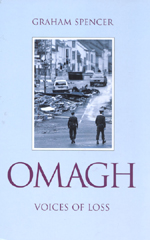 The following extracts are from the book:

Omagh
Voices of Loss
by Graham Spencer
Published by The Appletree Press Ltd, 2005
ISBN 0 86281 978 4 Hardback 155pp


Cover image by Martin McCullough


Orders to local bookshops or:
The Appletree Press Ltd
The Old Potato Station
14 Howard Street South
Belfast BT 7 1AP
Northern Ireland
T: +44 (0)28 90243074
F: +44 (0)28 90246756
Web Site: www.appletree.ie
E-mail: reception@appletree.ie
This material is copyright Graham Spencer (2005) and is included on the CAIN site by permission of Appletree Press Ltd, the author and Stanley McCombe. You may not edit, adapt, or redistribute changed versions of this for other than your personal use without the express written permission of Appletree Press Ltd. Redistribution for commercial purposes is not permitted.
---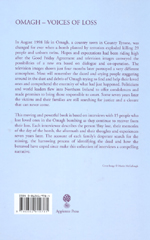 ---
| | | |
| --- | --- | --- |
| | Contents | |
| | | |
| | Acknowledgements | 7 |
| | Foreword - Michael Gallagher | 13 |
| | Introduction | 13 |
| | Interviews: | |
| | Bernie Doherty | 19 |
| | Kevin Skelton | 29 |
| | Edith White | 37 |
| | Bridie Marlow | 45 |
| | Godfrey Wilson | 55 |
| | Patricia McLaughlin | 63 |
| | Victor Barker | 71 |
| | Marion Radford | 81 |
| | Gerald McFarland | 89 |
| | Stanley McCombe | 97 |
| | Lawrence Rush | 105 |
| | Elizabeth Gibson | 113 |
| | Mandy Walker | 121 |
| | Thomas Conway | 129 |
| | Michael Gallagher | 137 |
| | Afterword | 153 |
---
Stanley McCombe
Stanley lost his wife Ann (48) in the bomb. We talk openly and at length at the Omagh Victims Group Office.
I met Ann thirty-five years ago, in 1968 and we married in 1973. We had been married for twenty-five years, we had just celebrated our twenty-fifth anniversary the year that Ann was murdered. It was in June of that year.
Ann was a wonderful person, a very, very caring person, and I suppose that's why I fell in love and married her. I think she was the kindest-hearted person that I've ever known and she cared for everybody. Ann was a person who looked after herself and kept herself pretty fit. She didn't have the vices that I have like drinking and smoking. Ann was a very good Christian, and she loved her church. She loved her family and she loved everyone around her.
I wasn't in Omagh that day because I was in Scotland. I belong to a pipe band and I play in a little band just a few miles out of town. On that Saturday my eldest son and I were in Scotland, for the World Pipe Band Championships. We left Omagh on the Thursday morning and I gave Ann a lift to work. She was starting at 9 o'clock and we weren't leaving until about 9.3Oam so I ran her into work.
When I was away I would phone every night. I called Ann on the Thursday night and at the end of the call I said I would ring again the following night, on the Friday, but she told me not to bother and to leave it until the Saturday night. The last sort of words I spoke with Ann, were on that Thursday night.
On the Saturday we all went to the competition and it was nearly 3.3Opm when I registered in the park. There was a lot of folk from the Omagh area over there, a lot of people involved in pipe band circles. Then I met someone who told me that there had been an awful bomb in Omagh. I asked him where it was and he told me that it had happened by the Court House.
I knew Ann was working, but I thought that the Court House would be well away from the shop where she worked and that they would all be evacuated out of the back of the shop anyway. In the normal case of events if things happen, you know like a fire drill, they have to go through the back of the shop into the car park. They would be well protected by the buildings because they're all three- or four-storey buildings in the main street, so if anything did go off, at least they were protected.
I started to think, well, if there's a bomb warning they'll clear the place. We were so well used to it, with bombs going off around the town and other towns nearby. It seemed routine that the workers and everybody nearby would be cleared out. But, then we met somebody else who told us that a lot of people had been killed at the bottom of the town where Market Street is.
We asked the person if they knew who had been killed but there was no information on that and at that stage, nobody could get through. I tried to phone but it was impossible to get through.
After the final, my eldest son Clive and his friend went to a nearby pub to try and get through. The news had filtered around that there was a big bomb in Omagh in Northern Ireland. Then when we got back to the coach there was a man who said to me that he had some bad news for me. I think I went weak. He told me that my sister had been caught up in the bomb. My sister Rosemary was a traffic warden at the time and she was badly injured. The man told me that he thought Rosemary had been killed and I just went to pieces.
We were on the coach and everyone was on mobile phones trying to get through but unable to. We then put on the radio as we drove away from Glasgow down to the airport where we were staying, I was just flicking through channels, and there was five dead, then six dead and then ten. Still, I didn't know anything. Not for one minute did I think that Ann would be down that part of the town.
When we got back to the hotel, the manager gave us two lines in his office and told us to call whoever we needed. I tried contacting my brothers, but there was just no way you could get through. Most people caught in the bomb had been identified but they didn't release names, it was just hearsay and Ann's name was never mentioned.
I remember thinking that irrespective of who had died as a result of the bomb, I would know most of them. It wasn't until some time after 8 o'clock on the Saturday night, that my brother got in contact with me through the bus driver. He told me that Ann was missing and that's when it really hit home for me.
We were still there in Ayr at the hotel on Saturday night and I thought that there was no way Ann would be missing for five hours unless it was serious. She would have contacted somebody in the family and all my brothers and sisters are around the town. This certainly got me thinking the worst. I remember saying to people that Ann was dead and there was no doubt about. I just went to pieces then. Your head goes, I mean, nobody just knows that feeling unless you've been there. Your head's buzzing and you don't know what to do. It must have been about 11 o'clock when Clive got through to my brother again. He found out that my minister had gone to the temporary morgue at the Army Camp and had identified Ann. That's when my worst fears were confirmed.
I tried to get home. I phoned the Strathclyde Police and asked if there was anything they could do for me, get me a helicopter or something. I just had to get home. The hotel manager contacted the ferry people and explained to them what had happened, and they said that they would get us across early. So we stayed on the bus and managed to get a crossing. I got back to Omagh about 10 o'clock on Sunday morning.
That was the worst and longest journey of my life. I can recall every minute of that journey. When [we] arrived home on the Sunday you could feel death in the air. People talk about a feeling of death and you could feel it that morning in Omagh.
We didn't come in past the site because you weren't allowed to drive past it, so we had to come in on a detour. But when we got to the roundabout, which was just about a quarter of a mile from the bomb site, and quarter of a mile from my own house, it was a very strange feeling.
It's hard to explain that feeling, but you could sense it. Everything was so still, you couldn't hear a dog barking, or a car, and there was nobody about. Everybody had just disappeared.
I was taken around to the Leisure Centre where the incident headquarters was, and I had to go to the morgue to identify Ann. She had been identified by the minister, but I had to view her and be sure that it was my wife. I sat there for hours because there was so much happening. It was chaotic with people rushing to and fro trying to find out information.
I had to be escorted by a police officer and I had someone from the Police Authority with me all that time. He was my Liaison Officer and anything I needed, he was there to do it for me, you know. We spent hours waiting to go in and for a number of reasons it didn't happen. So finally I went back home, and it was the Tuesday before I was able to go and identify Ann. Prior to that, I was taken into a room at the temporary morgue, and I was interviewed by an inspector from Belfast. He asked me all these questions and I had to prove to him that this was Ann and I was who I said I was. I had to go through this before they let me see her.
I had to describe Ann from her head to her feet, so that he could match that the description and be sure that this was Ann. That was very hard to take, you know. I sat there and the words that went through my mind, I thought who the fuck are you to question me about my wife. At that particular point I felt like they were accusing me of murdering her. They asked me if my wife was taking any tablets or had any distinguishing marks. Ann had an operation that year, and she had a wee wart on her finger. She also had a crown on her front tooth and was wearing certain jewellery. As I told them all this, they ticked it off. That was really hard and left me very angry.
I saw Ann about 11 o'clock on the Tuesday and that was the longest day that I'll ever live. I will never ever forget it. I see Ann all the time, but that image stays in my head and will be in my head until the day I die. Because my boys were of a young age, I just didn't want them in there. If they had have seen what I saw and the way those murderers left my wife's body they would flip. Anything could happen. They could want revenge because although you can't change anything, it makes you very bitter.
I've never hated anybody in my life, but I hate those people. It changes your whole life because now I don't trust anybody, that's what it's done to me. When I was with Ann, I was easy-going and enjoyed life, but now there is a big void there.
My son will ring me maybe two or three times a day, to see where I am, to let me know what he's doing. He works for a big firm in Omagh. It makes you worried about what might happen to your other loved ones. All I'm looking for here is justice because no matter what else happens, it'll never bring my Ann back. That's part of my life that's gone for good.
People might expect you to pick yourself up and go on but you can't because it's with you every day. When I get up in the morning I have to clean the house, do the washing and do the ironing. If I didn't do it there's nobody that would come in and do it for me. It's a big thing when one minute you have company doing certain things for you and the next minute you are on your own.
There were thousands of people coming by the house. I stood for hours every day and night as people came from all over Northern Ireland. This went on from the Monday to the Thursday. I was smoking one hundred cigarettes a day and not going to bed. All I did was eat to try and gain a bit of comfort. I went from twelve stone to fifteen stone in about six months because I ate, just comfort eating.
I was not sleeping and not going to bed. My head just buzzed all the time. I didn't want to see anybody, and then when I was on my own I wanted to see somebody. But you always wanted that someone who was never going to be there.
There were times when I was in my car on my own and I would drive as fast as I could maybe 110 or 115 mph down a wee road. I wasn't worried and I couldn't have cared less if I had killed myself because it didn't frighten me. That's the way it was. At times I didn't know what I was doing, why I was here, or what the point of anything was.
I had to look after my two boys and keep an eye on them, that's what kept me going. I had to keep them on the straight and narrow and I had to know where they were, who they were with, what time they were going to be home by, and how they were going to get home. My biggest fear was that out of anger my boys would get involved in some kind of organisation.
I think we've been seen as always crying, always begging, but we are not. My sister got compensated because she was badly injured, but she was treated like a piece of meat and a peep show. She went through some degrading things and had to wait and wait and wait. I lost my job and when that occurs you lose all your morals and negative things start to happen. You just can't concentrate the same. It changed me as a person.
I'm not a violent person but if somebody gets the wrong side of me all that's changed. I know there is a lot of people out there who don't like the victims trying to bring those guilty to justice, but there's not a politician in this country fighting for us.
If my house was going to fall in around me now, I would say well it can fall. There's nobody there to kick me up my backside and say you need to do this and do that. You just lose interest in things' like that, you know. I always went to church but haven't been in years. There's nobody there to give me a push. Okay, I have met a friend again, someone who suffered a similar fate as I did, and we're good friends, but it will never be the same. It gives you a wee bit of stability in your social life. It also makes it easier to go out because before I hated to see people with their partners, wives, girlfriends or whatever. I felt completely out of it and alone. I get invited to an awful lot of weddings but I hate them. I would rather be on my own.
You know, I never used to swear or curse at things, but now I just swear away. It's anger. The problem is anger ruins your life and those around you and this has happened because of what they did to my wife.
---