---

CAIN Web Service
'Politics in the Streets', by Bob Purdie (1990)
---
[CAIN_Home]
[KEY_EVENTS] [Key_Issues] [Conflict_Background]
CIVIL RIGHTS: [Menu] [Reading] [Summary] <!a href="/events/crights/bac.htm">[Background] [Chronology] [Main_Pages] [Newspaper_Articles] [Sources]

---
Text: Bob Purdie ... Page Compiled: Martin Melaugh

---
ENTIRE CONTENTS OF BOOK NOW AVAILABLE BELOW
The contents of the following book has been contributed by the author and copyright holder, Bob Purdie. (The original publisher, Blackstaff Press Ltd., had also given its permission.) The views expressed in this book do not necessarily reflect the views of the members of the CAIN Project. The CAIN Project would welcome other material which meets our guidelines for contributions.
---
The entire contents are reproduced from the book: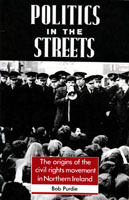 Politics in the Streets:
The origins of the
civil rights movement
in Northern Ireland
by Bob Purdie (1990)
ISBN 0 85640 437 3 Paperback 286pp
Original publisher Blackstaff Press (Out of Print)

Cover photograph: Student civil rights demonstration, Belfast, October 1968, courtesy of Pacemaker Press International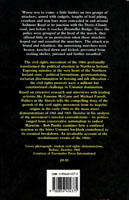 This book is copyright Bob Purdie 1990 and is included on the CAIN site by permission of the author and the publisher. You may not edit, adapt, or redistribute changed versions of this for other than your personal use without the express written permission of the author or the publisher, Blackstaff Press. Redistribution for commercial purposes is not permitted.

---
Contents
Pages
File Details
FOREWORD by Paddy Devlin
ix
[PDF; 266KB]
[HTML version]
LIST OF ABBREVIATIONS
xi
see above
INTRODUCTION
1-8
[PDF; 559KB]
1
The O'Neill Years, 1962-1968
9-37
[PDF; 2654KB]
2
The New Opposition
39-81
[PDF; 3799KB]
3
The Campaign for Social Justice and the Campaign for Democracy in Ulster
82-121
[PDF; 3296KB]
4
The Northern Ireland Civil Rights Association
121-158
[PDF; 3154KB]
[HTML version]
5
Derry and its Action Committees
159-197
[PDF; 3384KB]
6
The People's Democracy
198-243
[PDF; 3938KB]
CONCLUSION
244-252
[PDF; 775KB]
NOTES
253-260
[PDF; 565KB]
BIBLIOGRAPHY
261-271
[PDF; 804KB]
INDEX
273-286
[PDF; 1013KB]
---