---

CAIN Web Service
Extracts from: 'The Orange Cross - Book of Songs, Poems and Verse'
---
[CAIN_Home]
[Key_Events]
[Key_Issues]
[Conflict_Background]
[Music]
---
Text: Orange Cross ... Page Compiled: Fionnuala McKenna
---
The following pamphlet was originally published by The Orange Cross Committee. The views expressed in this publication do not necessarily reflect the views of the members of the CAIN Project. The CAIN Project would welcome other material which meets our guidelines for contributions.
---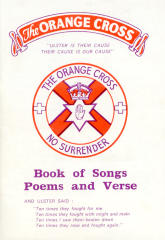 The Orange Cross
Book of Songs, Poems and Verse
Originally published by The Orange Cross Committee (n.d.)
Paperback 32pp Out of Print
These extracts are included on the CAIN site by permission of the The Orange Cross Committee. Users may download a copy of the following extracts for personal use or for private study. Redistribution of these extracts on the Web, or in print for commercial purposes, is not permitted.
---
ROCKY'S SONG
There's many a song has been written,
Of home and lands far away,
But I long to parade up the Shankill,
To the strains of our own Dolly's Brae.

Some sing the Country and Western,
The songs of the famed Johnny Cash
But give me the favourite of Ulster
Need I say it? That song is the 'SASH.'

Manys the night up the Shankill,
With heart and voice I did join
To sing of our hero King William
On the Green Grassy Slopes of the Boyne.

It's grand to parade up the Shankill,
In summer or even when chilly,
My collarette over my shoulder
And pinned on my breast the Orange Lilly.

I remember that night in the Lodge Room,
Surrounded by brothers, so true.
When I stood in front of the Master,
To receive the bright Orange and Blue.

These songs to me are most precious
And will be all my life through.
May God bless our Protestant Ulster
And three cheers for the Red, White and Blue.

Yes, I'm proud of our Loyal Ulster,
And the men who fought to defend her,
Thought now in the prison we languish
We still sing it out, "NO SURRENDER."

written by James "Rocky" Burns Belfast Jail 1972
---
OUR ULSTER COVENANT
The day is fast approaching and the hour is drawing nigh,
Republicans are encroaching so cunningly and sly,
But we'll follow in the footsteps of those men so adamant,
And keep the rights our fathers gained and our Ulster Covenant.

Let foes of Britain tremble when they think of Ulster's sons,
Who never will surrender or flee from Rebel guns.
We can depend on one another but not in our Government
They have sold out to those that hate us and our Ulster Covenant.

Let them think on Gallant Derry's Walls and on Aughrim's plains,
Where crimson blood by valiant hands each valley deeply stained.
Likewise with Enniskillen our ancestors did cement,
And sealed in blood our bill of rights and our Ulster Covenant.

Strong men will come to lead us, there'll be no traitors in our rear,
The Loyalists of Ulster no danger need they fear,
Our religion is our bulwark and our cause is Heaven-sent,
God bless Carson and Craigavon and our Ulster Covenant.

by "THE OLD VOLUNTEER"
---
LOYALTY
When rewards for Loyal deeds are ridicule and scorn,
And powerful men treat us as slaves, who've been free-men born,
When faith and freedom are assailed for which true men would die
Then one million loyal Protestants shall know the reason why.

Should justice to politicians yield and loyalty be a crime,
And jail deprives us of our rights won in olden time
Should falsehood, fraud and perjury be lifted up on high
Then one million loyal Protestants must know the reason why.

If Bills of Rights and statute books be freely watered down,
And if the role should be allowed to shame the British crown
If Lord Carson and Craigavon in shame and dust shall lie,
Then one million loyal Protestants shall know the reason why.

If chains for freedom shall be forged and appeasement given length,
And indecisive Government give the rebels strength,
If all that we love and cherish, be calmly thrown away,
Then one million loyal Protestants shall know the reason why.

Another man must surely come to take this weaklings place,
To stand up to those conquered and look them in the face,
To tell them 'No Surrender' we'll fight or else we'll die,
If not, then one million loyal Protestants must know the reason why.

Tailors Shop.
Belfast Jail 1968
---
NEVER SURRENDER
March, March. Shoulder to shoulder boys,
Firm in the ranks that no treason can sunder,
N'er met hearts or hands bolder, boys
Round the true banner that never went under.

Still shall we fearless smile,
N'er shall we falter while,
Freedom hath such gallant sons to defend her
Oh there is magic still,
Every true heart to thrill
In our old battle cry 'Never Surrender."

Boyne! Boyne! Long as thy currents flow,
There is a voice rising sweet from thy waters
Telling the glories of those who now slumber low,
Freedom who won in thy streams ruddy slaughters.

Telling of bright deeds done,
Telling of honours won,
Telling of William fair, freedoms defender,
Telling of Liberty,
Telling of Victory,
Telling us now "Rather die than surrender."

Traditional
---
THE WORDS OF WILLIAM JOHNSTON OF BALLYKILBEG
Ye Orangemen of Ulster,
Ye Loyal, True and Brave,
Arise, Arise ere yet it be,
Too late our land to save,
Arouse, arouse and put your trust,
In Him whom sits on high,
And charge the musket, draw the sword,
And "keep your powder dry."

And hoist your Orange banner high,
And sound your trump and drum,
Then soon the Loyal of the land,
Will to that standard come.
Arouse! Arouse! Your country calls,
Arm! Arm! the foe is nigh.
Let "No Surrender" be the word.
And "keep your powder dry."

So Orangemen, Arouse ! Arouse!
Tis Loyalty that calls,
Fear not the foe, our Orange flag
A traitors heart appals;
And swear before High Heaven's Lord,
Who reigns enthroned on high,
You'll charge these rebels on the field,
And "have your powder dry."
---
THE FIGHT
Who fears death for Ulster's cause?
Who trembles at the thought?
Who follows now without a pause?
In pathways danger fraught.
Who will quail because of jail,
And shame past generations.
Not free men — Not Ulster's men,
So make your preparations.

Some faithful brothers lie in bond,
Their Loyalty was their crime,
Fiery, staunch and Ulster spawned,
Are they not sublime?
To fight and slay the I.R.A.
It was their sole intent,
And you men — being true men,
Will keep your Covenant.

Onward boys, your cause is just,
Take up where they left off,
Use force of arms if you must
Disregard the cowards scoff.
Steel your hearts and play your parts,
As free men — not as slaves.
And I shall pray that on the day
Your efforts — Ulster saves.

"A VOLUNTEER"
---
THE ULSTER VOLUNTEERS (1912 - 1972)
OUR 60 YEAR TRIBUTE
When statesmen now to treason bow, and loyalty betray,
And traitorous knaves being Rebel slaves, our rights would take away,
To serve their Queen and Country, a gallant band appears,
While cowards quail. Come let us hail,
THE ULSTER VOLUNTEERS.

Let Rebels frown to put them down, and peaceful homes envade,
Oh never yet by idle threat, were Ulstermen dismayed,
They take their stand for native land, and know no paltry fears
These loyal boys who fear no noise,
THE ULSTER VOLUNTEERS.

True in the days when many change for profit or for dread,
True to the same old sacred Cause for which our fathers bled
They'll guard the rights that William won in famed and by-gone years,
Then let us toast, our pride, our boast,
THE ULSTER VOLUNTEERS.

Old U.V.F. Man Born 1888
---
THE RELIEF OF DERRY
Today the Maiden City hails
Heroic deeds of old,
And on its famed and ancient walls
The crimson flags unfold.

Nigh on three hundred years have gone
Since the historic day,
When gaunt, beleaguered Derry saw
The prisoning boom give way.

Against that floating barricade,
The Mountjoy stoutly sailed,
The shattered timbers fell apart,
The Siege of Derry failed !

And gates which in defiance closed,
Against the encircling foe,
Now wide are flung, as proudly borne
The crimson banners go.

So Derrymen that August day,
In memory still enshrine,
And honour still the 'prentice boys
Of Sixteen Eighty Nine.
---