---

CAIN Web Service
Drawing Support: Murals in the North of Ireland
Republican Mural - Historical and Mythological
---
[CAIN_Home]
[Key_Events]
[Key_Issues]
[Conflict_Background]
---
Text and Photograph: Bill Rolston ... Page Compiled: Fionnuala McKenna

---
Theme
Celtic warrior and Celtic symbols
The mural depicts a Celtic warrior with sword and shield; he wears a costume with Celtic ornamentation. There is also a cat - symbol of wisdom - a dolmen (marking the burial chamber of a chieftan), a decorated rock such as exists at the entrance to the passage grave at Newgrange, and a stone circle. The words are those of Mise Eire, a poem by Padraig Pearse, one of the signatories of the Proclamation of Independence, and leader of the Easter Rising in Dublin, 1916. Translation of poem:
I am Ireland,
I am older than the Old Woman of Bearra,
Great is my glory,
I who gave birth to Cuchulain the brave,
Great is my shame,
My own family
Have sold their mother.
I am Ireland,
I am lonelier than the Old Woman of Bearra.
Location and Date
Chamberlain Street, Derry, 1985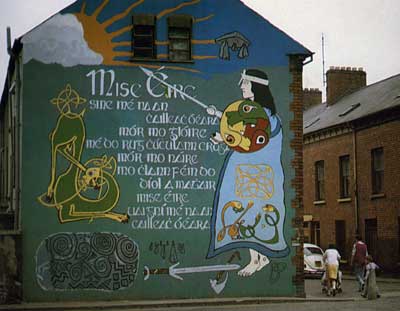 Return to List of Murals
---