---

---
Quilts and Arpilleras at The Verbal Arts Centre, 2008-2013
Introduction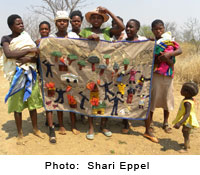 From 2008 to 2013 a series of story quilts and arpilleras were displayed at The Verbal Arts Centre in Derry. The displays began on 20 April 2008. Story quilts and arpilleras made by community groups from different parts of the island, other countries, or individual women were displayed for a number of weeks before being replaced with a new piece or pieces. Below are the details (in reverse chronological order) of the textile pieces that were on display at The Verbal Arts Centre.
(Photographs by Martin Melaugh unless stated otherwise.)
Venue:
Verbal Arts Centre (NI) Ltd
Stable Lane and Mall Wall, Bishop Street Within,
Derry / Londonderry, Northern Ireland. BT48 6PU
T: 028 7126 6946 F: 028 7126 3368
E: info@verbalartscentre.co.uk
W: www.verbalartscentre.co.uk
Details of the programme of displays:
Exhibition
Title:
Rotating Exhibit of Quilt or Arpillera
Display of story quilts and arpilleras at The Verbal Arts Centre. The display began on 20 April 2008. A single large quilt was displayed for a number of weeks before being replaced with a new piece.
Venue:
Verbal Arts Centre (NI) Ltd, Stable Lane and Mall Wall, Bishop Street Within, Derry, Northern Ireland. BT48 6PU
T: 028 7126 6946 F: 028 7126 3368
E: info@verbalartscentre.co.uk
W: www.verbalartscentre.co.uk
Dates:
20th April 2008 to 5th March 2013
Launch:
20th April 2008
Curator:
Roberta Bacic
Organisers:
The Verbal Arts Centre
Other info:
See information below for the individual textiles displayed.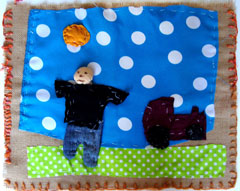 "Arpilleres: Les nostres històries fan història",
Our Stories Make History arpilleras
Created by: Sant Pau primary school, Sant Pol de Mar, Catalonia (near Barcelona)
On display: 30th November 2012 to 5th March 2013
Note [PDF; 827KB]
Invite [PDF; 93KB]
Photo by: Neus Bartroli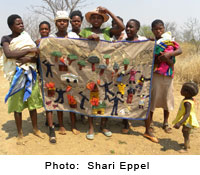 'The Killarney Girls' Arpilleras
Created by: The Killarney girls of Bulawayo, Zimbabwe
On display: 22 August to 28 October 2012
Note [PDF; 488KB]
Invite [PDF; 382KB]
Photo by: Shari Eppel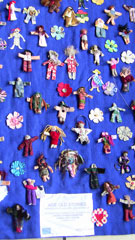 "Age Old Stories" Arpillera
Created by: Women and girls who took part in a Workshop on 13th March 2012
On display: 20 June to 20 August 2012
Note [PDF; 817KB]
Photo by: Rory McCarron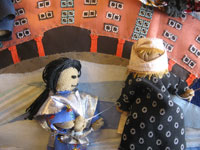 Story Makers 2008-2011, Twenty-five textile stories
Created by: Susan Beck and Janet Wilkinson from Liverpool
On display: 13th March to 18th June 2012
Photo by Susan Beck
For detailed information see exhibition entry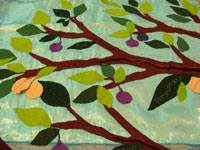 Women to Women for Peace quilts
Created by: Women to Women for Peace
On display: 7 December 2011 to 28 February 2012
Note [PDF; 485KB]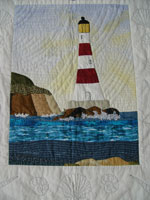 The Lighthouse Quilt
Created by: Marlene Milner
On display: 9 September to 10 December 2011
Note [PDF; 519KB]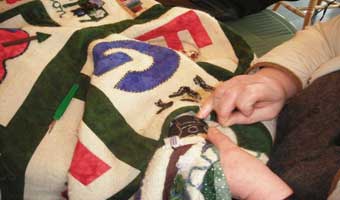 The Alphabet Quilt
Created by: The Minority Ethnic Women's Group of Ballyshannon, Co. Donegal, facilitated by Deborah Stockdale
On display: 16 June to 31 August 2011
Note [PDF; 81KB]


<!a href="/quilts/exhibition/2011-03-08_Derry/photos/">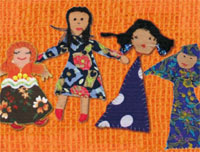 Sant Roc, a Diverse Neighbourhood
Created by: Various arpilleristas from Fundació Sant Roc, Badalona (outskirts of Barcelona)
On display: 14 April 2011 to 16 June 2011
Leaflet [PDF; 1081KB]
Note [PDF; 188KB]
<!a href="/quilts/exhibition/2011-03-08_Derry/photos/" target="_blank"> Photographs of launch of installation, 14 April 2011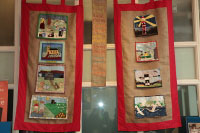 Rathlin Reflections
Created by: Various quilters and arpilleristas from Rathlin Island
On display: 8 March 2011 to 14 April 2011
Leaflet [PDF; 465KB]
Press Release [PDF; 73KB]
Photographs of launch of installation, 8 March 2011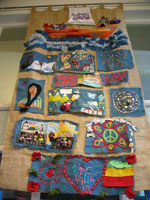 Nuestra Travesía / Our journey
Created by: Mujeres del Mundo-Babel
On display: 15 January 2011 to 28 February 2011
Photo by: Rory McCarron
Leaflet [PDF; 175KB]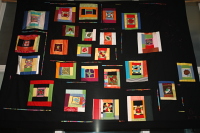 Textile Installation on Afghanistan
Created by: Heidi Drahota and her German pupils using embroideries made by women and girls from Afghanistan
On display: 8 November 2010 to 15 January 2011
Leaflet [PDF; 54KB]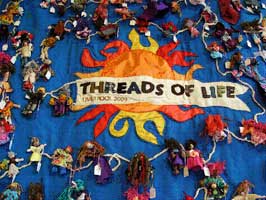 From Threads of Life to Following the Thread
Created by: Various groups of quilters and arpilleristas in Liverpool
On display: 15 August to October 2010
Leaflet [PDF; 122KB]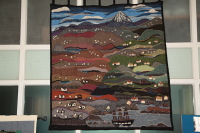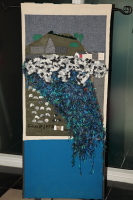 Sheep in Quilts
Created by: Letterkenny Irish Countrywomen's Guild members, facilitaded by Deborah J Stockdale and members of Castlederg Women's Institute
On display: 1 July to 15 August 2010
Leaflet [PDF; 78KB]
Letterkenny Museum brochure page 1 [PDF; 295KB]
Letterkenny Museum brochure page 2 [PDF; 319KB]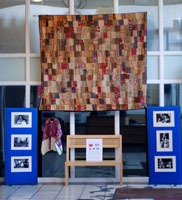 Guatemalan Textiles Installation
Created by: Participants of Guatemala Streetwise Quilt
On display: 29 March to 28 June 2010
Leaflet [PDF; 70KB]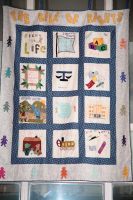 'The Bill of Rights'
Created by: Caw/Nelson Drive, Tullyalley Women's Centre and Galliagh Women's Group 2010
On display: Monday 8 March to 27 March 2010
WOMEN BUILDING BRIDGES Art Exhibition and Programme celebrating International Women's Day 2010 - Poster [PDF; 382KB]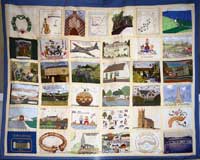 'Limavady Borough Millennium Community Quilt'
Created by: Various quilters from in and around Limavady
On display: 9 December 2009 to 7 March 2010
Note [PDF; 122KB]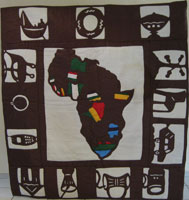 'The African Quilt'
Created by: Roland Agbage (Nigeria) and Polly Eaton
On display: 22 October to ...
Note [PDF; 79KB]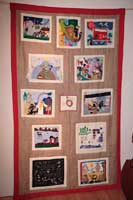 'Cultures from the heart'
Created by: The Women's Centre, Multi-Cultural Group
On display: 10 September to 12 October 2009
Note [PDF; 120KB]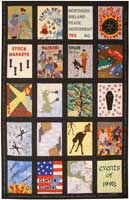 'Events of 1998'
Created by: Irene MacWilliam
On display: 10 July to 10 September 2009
Note [PDF; 103KB]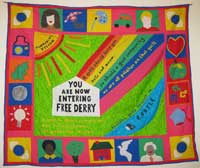 Visions of The Community Quilt
Created by: Bluebell Arts Project participants facilitated by Tina Maclaughlin
On display: 5 May to 10 July 2009
Note [PDF; 92KB]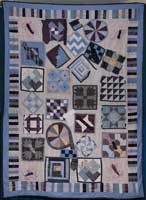 Sew and Sew Quilt
Created by: Sew and Sew Castlerock quilting group
On display: 6 April to 5 May 2009
Note [PDF; 43KB]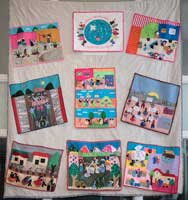 Peruvian Arpilleras
Created by: Various Peruvian arpilleristas; stitched together by Amelia Stewart
On display: 7 February to 6 April 2009
Catalogue [PDF; 1972KB]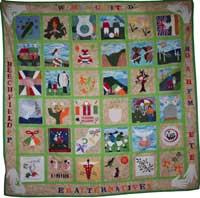 'Shared Visions'
Created by: 32 women from diverse communities around Belfast, Northern Ireland, arpilleristas; stitched together by Amelia Stewart
On display: 13 January to 6 February 2009
Photo by: Cristopher Keenan
Note [PDF; 182KB]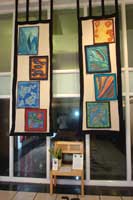 'Micro Cosmos'
Created by: Deborah J. Stockdale
On display: 3 December 2008 to 12 January 2009
Launched: Wednesday 3 December 2008 at 3.00pm, Verbal Arts Centre.
Details [PDF; 1326KB]; Photographs of lauch [PDF; 472KB]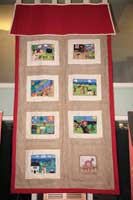 'a piece of me, a piece of us'
Created by: young mothers from the Women's Centre in Derry.
On display: 14 October to 2 December 2008
Launched: Tuesday 14 October 2008 at 10.15am, Verbal Arts Centre.
Each participant made an arpillera and assembled them into a large quilt.
Invitation [PDF; 101KB]; Photographs of lauch [PDF; 725KB]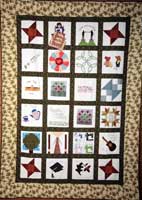 'FriendshipThrough Quilting'
Created by: Mission Hall Quilters, Derry/Londonderry
On display: 1 September to 14 October 2008
Note [PDF; 239KB]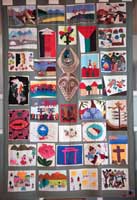 'A Quilt for the World'
Created by: Women of One World, , Nuremberg, Germany, with squares done by women from 35 countries to exhibit at Beijing's Women's Conference in 1995
On display: July to August 2008
Note [PDF; 154KB]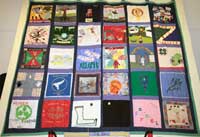 'Women's Rights are Human Rights'
Created by: Organized by CAJ (Committee for the Administration of Justice) and with participation of women from the whole of Ireland to bring to Beijing's Women's Conference in 1995
On display: 20 April to 30 June 2008
---