---

CAIN Web Service
End of a Liberal: The Literary Politics of Conor Cruise O'Brien, by D.R. O'Connor Lysaght (1976)
---
[CAIN_Home]
[Key_Events]
[Key_Issues]
[Conflict_Background]
---
Text: D.R. O'Connor Lysaght ... Page Compiled: Martin Melaugh

---
The following pamphlet has been contributed by the author D.R. O'Connor Lysaght. The views expressed in this pamphlet do not necessarily reflect the views of the members of the CAIN Project. The CAIN Project would welcome other material which meets our guidelines for contributions.
---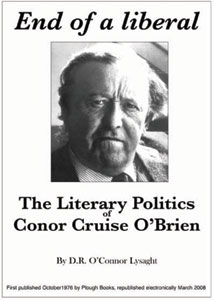 D.R. O'Connor Lysaght
End of a Liberal: The Literary Politics of Conor Cruise O'Brien
1976
A Plough Books Publication
Pamphlet 31pp [PDF; 3084KB]

First published October 1976 by Plough books, republished electronically March 2008.
To contact the author -
Email: droclysaght@gmail.com
Post: 126 Killester Avenue, Dublin 5, Ireland.
Note: The author died on 2 July 2021.
This publication is copyright D. Rayner O'Connor Lysaght (1976, 2008) and is included on the CAIN site by permission of the author.

---
Contents

Foreword
Introduction
The O'Brien Tradition
The British Connection
The Two Nations Illusion
The Masterpieces
The Liberal Rampant
Anti-Marxism
"Literary Politics"
"Chipping Away at Obvious Lies"
O'Brien as a Party Politician
O'Brien's History of Ireland
"States of Ireland"
Death of an Irish Liberal
Postscript

---
'End of a Liberal:
The Literary Politics of Conor Cruise O'Brien'
This pamphlet is available as a PDF file.
[PDF; 6074KB]
---