---

CAIN Web Service
'The Trouble with Northern Ireland: the Belfast agreement and democratic governance', by Rick Wilford and Robin Wilson (2006)
---
[CAIN_Home]
[Key_Events]
Key_Issues]
[Conflict_Background]
POLITICS:
[Menu]
[Reading]
[Articles]
[Government]
[Political_Initiatives]
[Political_Solutions]
[Parties]
[Elections]
[Polls]
[Sources]
[Peace_Process]
---
Text: Rick Wilford and Robin Wilson ... Page Compiled: Martin Melaugh

---
The following paper has been contributed by the authors Rick Wilford and Robin Wilson, with the permission of the publisher, TASC at New Island. The views expressed in this chapter do not necessarily reflect the views of the members of the CAIN Project. The CAIN Project would welcome other material which meets our guidelines for contributions.
---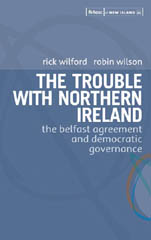 The Trouble with Northern Ireland:
the Belfast agreement and democratic governance
by Rick Wilford and Robin Wilson (2006)
1-905494-27-0 63pp

Paper copies of the report are available from:

TASC a think tank for action on social change
26 South Frederick Street
Dublin 2
Republic of Ireland
Tel: 00 353 1 616 9050
Fax: 00353 1 675 3118
e-mail: contact@tascnet.ie
website: www.tascnet.ie

This publication is copyright of the authors Rick Wilford and Robin Wilson (2006) and is included on the CAIN site by permission of TASC and the authors. You may not edit, adapt, or redistribute changed versions of this for other than your personal use without express written permission. Redistribution for commercial purposes is not permitted.
---
This paper is an aspect of the work of Democratic Audit Ireland, a joint project between the think tanks TASC in Dublin and Democratic Dialogue in Belfast.
The report is available as a PDF file from CAIN using the following link:
The report can also be downladed from the TASC web site from the following link:
---