---

CAIN Web Service
'The Northern Ireland Fiasco', by Paul Rose (1981)
---
[CAIN_Home]
[Key_Events]
[Key_Issues]
[Conflict_Background]
---
Text: Paul Rose ... Page Compiled: Martin Melaugh

---
The following chapter and appendix is copyright of Paul Rose (and perhaps also the publisher Frederick Muller). The extracts have been included on the CAIN site following attempts to contact the author and publisher. If anyone has contact details for the author or publisher please send these to CAIN. The views expressed in these extracts do not necessarily reflect the views of the members of the CAIN Project. The CAIN Project would welcome other material which meets our guidelines for contributions.
---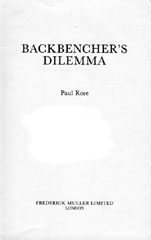 'The Northern Ireland Fiasco'
in,
Backbencher's Dilemma
By Paul Rose
[PDF; 2142KB]
Frederick Muller
London
NW2 6LE

These extracts are copyright of Paul Rose (1981).

---
Contents

Chapter 12: The Northern Ireland Fiasco
Appendix: (A report by the CDU on a visit to Northern Ireland in 1967)

---
Chapter Twelve: 'The Northern Ireland Fiasco'
plus, 'Appendix'
(A report by the Campaign for Democracy in Ulster (CDU) on a visit to Northern Ireland in 1967)
in, Backbencher's Dilemma
by Paul Rose (1981)
This chapter and appendix is available as a PDF file.
[PDF; 2142KB]
---