- Photo 1 of 4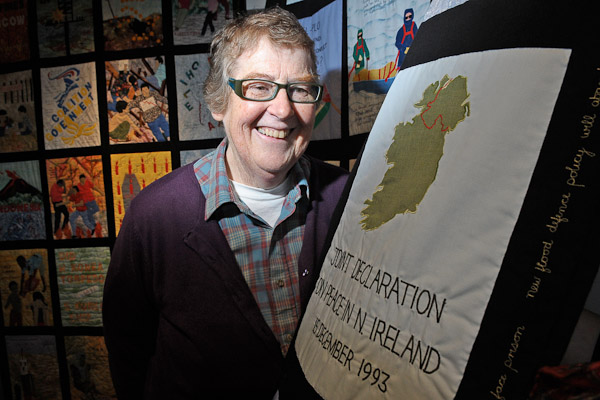 Caption: Artist Irene MacWilliam from near Belfast who has been recording national and world events in the form of Year Quilts since 1986 pictured at the launch of the exhibition, "Events of the Year Quilts and Testimonies of Survival", which her quilts form the centre piece, in the Tower Museum. The exhibition continues until the 24th of March in the museum before moving to Donegal County Museum in Letterkenny from on the 4th of April until the 30th of June. Irene will host a workshop on saturday the 25th of February from 10am to 4pm in the Tower Museum titled, "How to make a memory piece of an event or person". Picture Martin McKeown. Inpresspics.com. 16.2.12

Photographer: Martin McKeown
Date: February 16, 2012
Camera Details: NIKON CORPORATION NIKON D300
Filename: irenemacwilliamquilts1602122
Size: 2700 x 1800
Copyright: © A copy of the above image may be downloaded for private study or personal use. Anyone requiring a copy for commercial use, or use at a Web site, should contact CAIN for further information.