gallery
main menu


introduction
the photographs


images index
finding photos


photographer
eamon melaugh


copyright
rights and use


contact
contact details


<! ------ right-hand column ------>

book of photographs
Derry The Troubled Years
by
Eamon Melaugh
In December 2005 the Guildhall Press (www.ghpress.com) published a book of Eamon Melaugh's black and white photographs of the early period of the conflict in Derry. The book contains approximately 200 photographs. Some of the photographs are ones that appear within the on-line gallery while others are a new selection from Eamon's negative files. If you found the photographs in the galllery to be of interest, and you would like to purchase a copy, then please contact the publisher directly. Proceeds from the book will be donated to 'Action With Effect', a registered charity (Registration Number XR88946) administered by Eamon Melaugh, and will be used to alleviate the plight of the homeless, deprived and disabled in India. (The book was reprinted in August 2008 and again in October 2018.)

Ordering the Book
The book can be ordered directly from the publisher Guildhall Press.
Further details of the book, and ordering facility, are available at this page:
https://ghpress.com/shop/product/derrys-troubled-years/
If you order a book please add a comment on the order page to say that you saw details of the book on the CAIN web site. Thank you.

---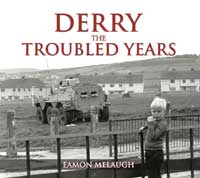 Derry
The
Troubled
Years
Eamon Melaugh

Published by the Guildhall Press, December 2005; Reprint August 2008 and October 2018
ISBN 0-946451-90-7 Paperback 192pages £12.95 (sterling)

Contents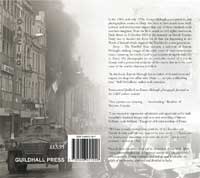 Introduction
Eamon Melaugh
From the Darkroom in the Shed
to the World Wide Web
Dr Martin Melaugh
Recording the Revolution
Adrian Kerr
An Epic Love
Nell McCafferty
Photographs
Conflict
Marches and Protest
Liberation Fleadh
The Old Town
Life Goes On
Documents and Graffiti


<! ------ bottom bar ------>
---
CAIN Web Service
all photographs © Eamon Melaugh
site developed by: Martin Melaugh
Back to the top of this page