Peter Heathwood Collection
of Television Programmes
Introduction to the Collection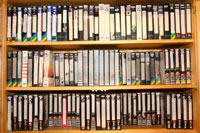 This section contains details of news programmes, television documentaries, current affairs programmes, and history programmes, about the Northern Ireland conflict and politics, that were broadcast between 1981 and 2008. The information contained within these pages has been provided by Peter Heathwood and is based on his private collection of television recordings.
(The photograph on the right shows part of the original Heathwood collection.)
Users should note that only textual information about the programmes is kept on the CAIN Web site. The recordings are not available on CAIN. The recordings of the programmes are held by Peter Heathwood in a private collection.
Peter Heathwood continues to work on his collection. It is hoped to update the listing on CAIN to include (at least) 2009 and 2010.
The textual information can be viewed as listings of programmes arranged by year of broadcast, or the search page can be used to search the database for information on particular events, people, or organisations.
This database includes only those programmes that were devoted wholly to the Northern Ireland conflict and politics, and, in the case of magazine current affairs programmes, editions that were devoted primarily to the subject. However, it should be noted that the database is not comprehensive.
The database contains:
Most of the major British and Irish documentaries (479), history programmes (51) and current affairs programmes (693) about Northern Ireland networked between 1981 and November 2008.
Details of news programmes (4,348) broadcast between May 1981 and January 2005.
A few documentaries broadcast between 1969 and 1980, and also some independent videos during the same period.
The listings are based on handwritten notes made by Peter Heathwood at the time of broadcast or while watching a recording. All the notes on news programmes have been transcribed and are in the database. Current affairs programmes and documentaries are listed but the entries for most programmes need to be completly transcribed; these are indicated by text which reads (... ENTRY TO BE COMPLETED).
To secure the private collection Peter Heathwood is currently converting his VHS tape collection to DVD; he is approximately three-quarters of the way through this work. He is also continuing to record programmes to the present day (2013).
Layout of Tables
The information on each television programme is displayed in a table. An example of the format of the tables is provided below with a short explanation of the information contained in each part of the table.
Series Title:

The series to which the programme belongs where appropriate.

Programme Title:

The title of the television programme where given. Many current affairs programs do not have a programme title.

Description:

A brief description of the programme contents. This includes the topic area covered, the names of prominent people interviewed or featured, names of organisations featured, geographical locations, etc.

Type of Programme:

Current Affairs, Documentary, History, News, etc.

Broadcast Company:

The name of the broadcasting company.

Channel:

The specific broadcast channel, eg., BBC1, BBC2, etc.

Date Broadcast:

The date of first broadcast.

Duration:

Running time of the programme in minutes

DVD Number:

Number of the DVD disc containing the digital copy.

Tape Number:

PH's original tape number.

Country of Origin:

The country, or region, where the programme was produced.

Record Number:

Database ID number
Other Information on CAIN about TV Programmes and the Media:
© Peter Heathwood
Last Modified :
Back to the top of this page