technique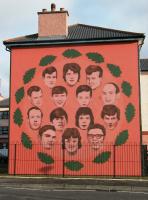 Title - 'In Memory of Bloody Sunday'
(Bloody Sunday, 30 January 1972 - Mural 2)
Medium - Emulsions and acrylics
Size - 26ft x 28ft
This mural was painted in October 1997 to commemorate the twenty-fifth anniversary of the Bloody Sunday Massacre. We were approached on this occasion by the Bloody Sunday Campaign for Justice committee. No stipulations as to how we would do it were given as it is well understood that The Bogside Artists always paint what they think is appropriate, as any worthwhile artist must.
The design is simple, the circle being the format we agreed on early in the design process as the one that would effectively encapsulate all fourteen portraits of the victims. The portraits were first of all done out on large pages after area calculations had been done on the appropriate size of circle and the total area coverage the faces would occupy if they were to be seen at their best. The faces were then strategically placed and drawn out, the youngest being given special prominence while the older faces surround them hinting at parental concern. The faces of the slain are surrounded by 14 oak leaves, one for each. The oak leaf is the symbol of Derry whose Irish name Doire means Oakgrove.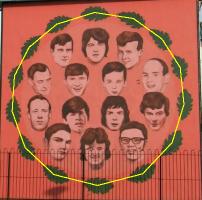 The colour that is a shade of red proved to be the most precarious part as too loud or too chromatic would have had an effect opposite to what we intended. We wanted a red that was soft and mellow, sad in a word. The painting would be defined by its reference to "Bloody Sunday". We believe we achieved just that. In evening light with the sun shining directly on it, it can be unbearably moving.

<! ------ bottom bar ------>
---
CAIN Web Service
© the bogside artists
site developed by: Martin Melaugh
Back to the top of this page