<!a href="/bogsideartists/mural2/Mural2-Bernadette-lrg.jpg">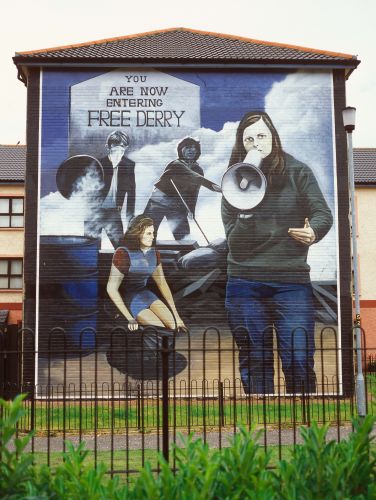 Bernadette
Battle of the Bogside

The above mural depicts some scenes from the 'Battle of the Bogside' which took place in August 1969. The mural depicts Bernadette McAliskey (Devlin at the time) addressing the crowds on the streets of the Bogside. She later received a prison sentence for taking part in, and inciting, a riot.
The painting uses a number of triangular themes echoing the 'Free Derry Corner' gable wall which is a focal point of the painting. The bin lid in the foreground was used by women and children in Catholic areas throughout Northern Ireland to alert people of an impending raid by the British Army. The mural was painted in 1996.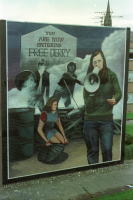 The photograph on the right shows the building, on which the mural was painted, prior to extensive redevelopment by the Northern Ireland Housing Executive (NIHE). The NIHE respected the wishes of local tenants that the mural should remain.

< previous mural ... mural index page ... next mural >
<! ------ bottom bar ------>
---
CAIN Web Service
© the bogside artists
site developed by: Martin Melaugh
Back to the top of this page