CAIN Web Service
---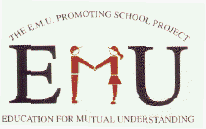 The
EMU Promoting School
Project

- Partnerships
---
[EMU Promoting School Project - Home Page]
---
Text: Lorraine Heffernan

---
Partnerships
The following includes a list of partnerships that the EMU Promoting School Project has formed locally.


The Southern Education and Library Board (SELB).

The EMU Promoting School Project is very interested in developing the concept of 'Team' among the wider school community. Emphasis on communication, co-operation and affirmation as team building tools are identified as paramount importance. A two day course has been developed in partnership with the board which was of particular use to schools with low morale and poor self image.


The Focus Group

The Forum on Community Understanding and Schools (FOCUS) - is an informal network of organisations and individuals whose work relates to Education for Mutual Understanding (EMU) and Cultural Heritage (CH) in schools in Northern Ireland. The Group meets at least once a term to share information, to discuss matters of common concern and to offer mutual support in the development of this important aspect of education. Seamus Farrell is the FOCUS Committee secretary.
---

EMU Promoting School Project - Home Page
---
© 1997 EMU Promoting School Project
---
Last Modified by Dr Martin Melaugh :
Back to the top of this page