CAIN Web Service
---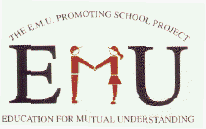 The
EMU Promoting School
Project

- Commendations
---
[EMU Promoting School Project - Home Page]
---
Text: Lorraine Hefferman

---
Commendations for the EMU Promoting School Project
Andy Pollak, Religious Affairs Correspondent with the Irish Times.
"I believe that The EMU Promoting School Project is one of the most exciting and innovative initiatives I have seen in Irish education, North or South, in a long time. Its conflict mediation model engaging primary school children will have applications far beyond Northern Ireland's particular and peculiar situation."


Dr. Stephen Ryan, Peace and Conflict Studies, University of Ulster, Magee College.
"I have been involved with the EMU Promoting School Project since its conception from the Quaker Peace Education Project. I strongly believe that the work the action research project conducts has benefited the communities of Northern Ireland and its significance in the international community should be realised."


Professor Seamus Dunn, Director of the Center for the Study of Conflict, University of Ulster at Coleraine.
"The EMU Promoting School Project as an action research project at the Centre for the Study of Conflict is an extremely valuable flagship because of its uniqueness and innovative work. It is a leading organisation in the field of promoting conflict understanding and non-violent means of resolving disputes in education. EMU Promoting Schools Project's strong reputation has outgrown its expectations. An indication of this is the project's intention to address the involvement of parents, and also developing programmes for younger children."


Belinda Hopkins, Reporter with Mediation UK Magazine.
"I have been greatly inspired over the years by the work Jerry and his team in Northern Ireland have been doing in developing peer mediation schemes in schools in some very difficult areas."


The Former President Mary Robinson, Republic of Ireland.
"The EMU Promoting School Project at the University of Ulster has been working on peer mediation programmes which are not only important in schools but throughout the wider community. Mediation is important internationally and has the potential to reach settlements which would otherwise go unresolved. I am particularly impressed that the art of mediation has transcended into the school system by the EMU Promoting School Project".


Karen Gilpin, Primary 7 Teacher, Ballysally Primary School.
While citing her involvement in the work of the EMU Promoting School Project, she described her experience as a "real privilege" and stressed that it had "made a difference to my attitude towards teaching".


Dessie Hasson, Principal of Ballysally Primary School
Dessie Hasson has noted that the work carried out by the EMU Promoting School Project in partnership with his school has "had a powerful effect on the teaching and learning taking place in the school" and views peer mediation as "an excellent alternative means of resolving conflict."


Sarah, P7 Student at Ballysally Primary School.
"From peer mediation I have learned that everyone has good in them and we should value that if nothing else. Also, I have learned to co-operate and build up relationships. I never knew I had so many good qualities.


Linton Campbell, P7 Student at Ballysally Primary School.
"I really enjoyed going to the mediation workshops. I learned that you need co-operation to mediate. I used to be scared to go up in the front of a crowd, but I am okay now."


Lady Mayhew.
"I was extremely impressed by Colm and Jane's calm and reasonable way of handling the issues and helping the two protagonists to come to an agreed solution. I do hope you succeed in getting peer mediation to be taken up by post primary schools. It does seem extremely valuable in a variety of ways."


---

EMU Promoting School Project - Home Page
---
© 1997 EMU Promoting School Project
---
Last Modified by Dr Martin Melaugh :
Back to the top of this page