<! ------ table layout ------>

<! ------ top bar ------>



Guidelines for Developing a Community Relations Plan for District Councils




<! ---- top navigation bar ---- >





Guidelines for Developing a Community Relations
Plan for District Councils

September 1998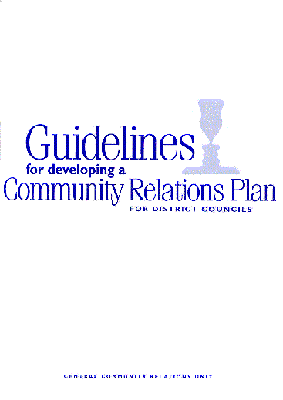 Central Community Relations Unit

---
Guidelines for Developing a Community Relations
Plan for District Councils


Your community relations plan should be developed in co-operation with other Council staff and elected representatives and should contain the following information.

1. Background
Information about your District Council area and the Council itself, baseline information about community relationships, areas of geographical polarisation, levels of sectarian violence, community relations issues particular to your area. Your Council's approach to community relations in the past, information gathered as a result of consultation with your stakeholders and those who are currently outside the process. How the Capita report impacts on your plan. Your background should also identify and prioritise key CR issues and partners with whom you wish to work.
2. Mission/Vision
A statement which conveys a feeling of ultimate purpose, something worth striving for. This should encapsulate the overall purpose of your work. It should reflect the overall mission of your council and vice/versa.
3. Aims
Declare what it is you intend to do - a statement of purpose. Your aims should give you a sense of identity and purpose, an idea of what is to be ultimately achieved, a long term direction. Your aims should also tie in with the aims of your council (set Out in its corporate plan) and the aims of the DCCRP set out by CCRU.
4. Objectives
List how you intend to achieve your aims, your main activities, initiatives which are likely to have a completion date, things which need to be done. These should be separated into areas of work and prioritised and they should also lead directly to your Action/Operational plan.
5. Action/Operational Plan
A detailed outline of actions required in each area of your work relating to your objectives. This should contain dates for completion of projects and the project budget where applicable. It would also be useful to list targets/ performance indicators for each area of your work; these may be quantitative or qualitative. You could also highlight potential barriers/ blocks to the work.
It would also be useful to highlight where projects demonstrate continuity.
6. Monitoring/Evaluation
An outline of how you intend to monitor your work. Pending a review of the current monitoring process, you may wish to outline how you will integrate this with your CR plan.
With regard to evaluation you should outline how you intend to assess whether your plan is achieving its aims and if not, why not? Who will do it? What will they do? When will it be done?
Evaluation is a look back at the outcomes of your work to see what lessons can be learned and fed into future decisions with a view to improving efficiency, effectiveness and value for money.
There now follows notes on each of the areas listed above giving more detailed advice and suggestions...
---

1. Background
It is very important when drawing up a Community Relations Plan for your District Council to establish a context for your work. This can be done in a variety of ways.
Using research, audits, studies, census information, published information on your District Council area. Much information already exists on issues such as areas of geographical polarisation, levels of sectarian violence and CR issues particular to your area. Often you will not need to carry out new research. Gather as much relevant existing information as you can then extract the sections in it that are relevant to your work and use this to begin forming your background. Always ensure that the information you are using is as up to date as possible.
Read the Capita report again and extract the information relevant to you. Also look at current practice in the community relations field. Contact Community Relations Council, INCORE, DENI, District Partnerships, Centre for the Study of Conflict and talk to other Community Relations Officers about their work. Find out as much as you can about what other people are doing and how this could be useful to you.
There are several Internet websites established outlining community relations practice. If you have access to the Internet, you may find these useful. For further information on this, contact the Community Relations Council Information Centre. They can arrange for you to access the Internet.
It would also be useful to conduct a local consultation; this can be as big or small as you wish.
It is good practice to ensure that the work you do and the work you intend to do meets the needs of the user groups/stakeholders you work with and also those with whom you do not currently work. This is a central theme of the new 'best value' documentation which local government in Northern Ireland is currently considering.
Your consultation could take the form of focus group meetings. Getting together key individuals who have taken part in your programme to assess their views of the programme to date and their ideas for future developments should prove useful. It may also be useful to have a focus group with individuals you would like to work with in the future, in order to find out ways in which you could co-operate. It is important that these groups are properly facilitated. If you wish to facilitate the group yourself, ensure that you have another person present to support you and document the discussion, if you use an outside facilitator, ensure that they are experienced in facilitating community relations discussions and that they are clear about your desired outcomes from the focus group meeting. Community Relations Officers could co-operate and conduct focus groups in each others' areas. Alternatively you could have individual discussions with key stakeholders in your area, or distribute a questionnaire for them to answer to give you detailed information about your programme and their ideas for future development.
You should then review your current program, perhaps by doing a SWOT analysis (see Appendix 1, Diagram A). This should enable you to decide which areas of your current work need prioritising and which need reviewing for their usefulness in light of your research.

Identifying Issues
Once you have collated all the necessary background information, you should consider the top ten issues identified in the Capita report and other CR issues identified by your Council as important areas to address. These might include:
| | |
| --- | --- |
| | Your Council's image in terms of CR |
| | |
| | |
| | Cultural Diversity/Mutual Respect |
| | Engagement of the Protestant community |
| Geographical polarisation | Image of CR within your Council |
| Neutral/shared venues/space | |
| | |
| | |
A more detailed explanation of some of these issues is listed in Appendix 2.
When developing your background/context for your work you will wish to reach decisions as to which of these (or perhaps other issues) take highest priority and require addressing with regard to your Council. You might then focus on between six and eight key issues and use these as headings in your plan. These will then also become the headings under which your budget will be summarised.

Identifying Partners
It is also important to identify your stakeholder groups and potential partners for collaborative work, how their work affects your work, and how you will relate to them.
'The needs of Councils and the requirement to engage specific client groups is considered deliberately at the planning stage and documented clearly within their CR plans'
Capita, 1997.
Some potential stakeholders mentioned in the Capita report were churches, District Partnerships, community and voluntary groups, business organisations, the Council itself, etc. Other stakeholders could include economic development groups, enterprise agencies, DENT, etc. This list is in no way exhaustive. You will be much more aware of your stakeholders than anyone else.

At this stage you may wish to do a stakeholder analysis to identify who are your key players, who you need to keep satisfied, who you need to keep informed and with whom you need to expend minimum effort (see Appendix 1, Diagram B).

It is important not only to identify potential partner organisations but also to outline how you will relate to these groups and the nature of your relationship with them.


A stakeholder is:
'...any person or organisation that can place a claim on another organisation's attention, resources, or output, or is affected by that output.'
J.M.Bryson: 'Strategic Planning for Public and Non-profit Organisations' Jossey-Bass, 1998

Internal/External Issues
In the context of everything examined so far in your background, it is also important to consider internal and external work, as mentioned in the Capita report (see Appendix 3).

Internal
This is work you intend to carry out within your council to improve community relations, e.g. Training of elected representatives, staff, etc.

External
This is work that you intend to carry out with external stakeholder groups e.g. Churches, District Partnerships, Business organisations, etc.

Based on the research you have done so far, it should now be possible to highlight the internal and external work required in your District Council to form the basis of your CR plan.

This information does not all have to go into your plan. It simply gives you a rationale for choosing to work in the way you do. The background section in your plan should be no longer than three A4 pages and should summarise the findings of your research.


Your background should be a rationale for your new plan
based on the information examined.
---

2. Mission/Vision
The idea of having a mission is so that you can have a short memorable statement that conveys a sense of what it is you are trying to achieve. Your mission should be compatible with the corporate mission of your Council and CCRU's strategic objective of promoting a more equitable society'. You may also wish to take account of the mission suggested in the Capita report to represent the work of CCRU with District Councils.
'To support individual Councils to meet their respective corporate aims through increasing mutual respect and understanding for all sections of the community and through its work helping constituents to acknowledge their interdependence'
Developing a mission statement often requires a certain degree of inspiration and creativity. It may be useful to write down all the words you think need to be in your mission, then prioritise these into the top seven and try to work these into a phrase. It is also suggested that you consult your line manager, colleagues, chief executive and councillors where possible, to ensure entire Council ownership of your mission.


Some examples of existing mission/vision statements are:
'Taking a leading role in addressing communal divisions in Northern Ireland'
Community Relations Council (Strategic Plan 1998-2001)

'To provide the framework within which the best use is made of the resources available to the Secretary of State of Northern Ire land in pursuit of Government policies and objectives, for the benefit of all the people of Northern Ireland.'
'To promote fair, co-ordinated and cohesive government commanding the confidence of all the people of Northern Ireland and so contribute to a lasting agreed political settlement:
Department of Finance and Personnel, (Strategic Plan 1998/1999- 2000/01)

Do not get stuck initially with trying to come up with the precise wording of a mission statement. You can start by jotting down the main elements you feel should go into it and carry on with your plan, returning to your mission statement later. By this stage, you should have a clearer idea as to how it could best be articulated.
---

3. Aims
When setting Out the aims of your programme, you must be careful to ensure that they meet with the Government's aims for community relations:
To ensure that everyone enjoys equality of opportunity and equity of treatment

To increase the level of cross-community contact

To encourage greater mutual understanding and respect for the different cultures and traditions

You will also wish to ensure that your aims tie in with any relevant Council aims which may be outlined in your own Council Corporate Strategy.
Aims should be kept fairly broad and general. They should contain themes such as cross-community contact, mutual understanding, cultural traditions, equity, diversity, interdependence, evaluation, information, support and partnership.
It is best not to have too many aims. There may be difficulty in coping with more than five.

Examples of other organisations' aims:

Community Relations Council (Strategic Plan 1998-2001)
To identify the key stakeholders in Northern Ireland with whom the Community Relations Council seeks to interact/service.
To work in partnership, and be seen to work in partnership, with key stakeholders to define the community relations priorities of different sectors within Northern Ireland.
To evaluate, in a cost effective way, the impact of work supported and undertaken and to make explicit use of any lessons learned to inform future activity.


Western Routes Project
(PSEP sub-programme 1994-1999 Project Directory)
To provide training opportunities in community relations issues
To work directly with EU Partnership Boards.
To support the development of inter-church groups within the region.
To support communities in disadvantaged areas & those areas most affected by the conflict.


Multi-Cultural Resource Centre
(PSEP sub-programme 1994-1999 Project Directory)
To raise awareness of the existence of ethnic minority communities in Northern Ireland, acknowledging their equal rights and specific needs.
To highlight the rich contribution made by the ethnic minority communities in Northern Irish society through their diverse cultural traditions and values.
---

4. Objectives
This section of your report is one of the most crucial. It outlines clearly how you are going to meet your aims. It identifies who you will work with, what issues you intend to focus on, and how you will carry out your work. Your objectives should also reflect the internal and external work suggested in the Capita report. It may also be possible in this section to begin to outline desired outcomes or performance indicators for your work along with target dates.

Objectives should be S. M. A. R. T.:
| | | | | |
| --- | --- | --- | --- | --- |
| Specific | Measurable | Agreed | Realistic | Time-Dependent |
Examples of objectives of other organisations are:

Community Relations Council (Strategic Plan 1998-2001)
To engage key constituencies within the churches, the statutory, community and business sectors in the identification of community relations priorities in Northern Ireland within their sector.
To produce an audit of the community relations priorities across the key constituencies and regions in Northern Ireland.
To develop a series of structured, time bound, costed plans to meet the top priorities of each of the constituencies identified above.

CCRU Support and Development Officers Plan 1998-1999
To produce guidelines for developing CR plans. (Sept. 1998)
To provide training for CRO's and Line Managers on producing CR plans. (Oct. 1998)
To attend quarterly meetings with all District Council CRO's and Line Managers, to evaluate their programme and provide information and support. (Ongoing)

Sports Council Northern Ire land Sports Development Fact-sheet (Model Strategies)
To increase participation by x,y,z, groups by a proportion of x%.
To concentrate on developing opportunities for progress from participation to excellence in a limited number of specific sports.
To measure and assess the effectiveness of progress towards the above objectives and review and revise the process on a regular basis.

Belfast City Council Corporate Plan 1998 - 2002 Strategic Objectives
On Civic Leadership

To increase the Councils influence on behalf of the community over the full range of services provided in the City
To increase public understanding of the role of the Council and the services which it provides
To find different ways of implementing initiatives, making full use of partnership potential and funding opportunities
On Best Value

To become a best value organisation by subjecting all Council services to the requirements of the Best Value initiative
On Sustainable Development

To ensure that Belfast becomes a more sustainable city in which to live, work, invest or visit.
---

5. Action/Operational Plan
The Plan should follow on from your objectives.

All the individual tasks/projects for each objective should be listed.

Each project should have a target date where possible.

Each project should have a budget breakdown.

You could also include a rough breakdown of person/days to be spent on each project. This may help you be realistic in the amount of projects you take on and also to have a clear agenda from which to work.

Your operational plan should also contain targets/performance indicators for each objective. These can be quantitative, qualitative or both.
| | |
| --- | --- |
| Quantitative: | Numbers and mix of people participating, numbers of groups contacted, number of projects, number of grants given, production of a CR plan. |
| | |
| Qualitative: | Progression from basic contact work to more in depth work, the visibility of partnership approaches, the clear integration of CR issues throughout council structures, the production of effective evaluation mechanisms, the quality and scope of a CR plan. |

At this stage, Councils are being asked to determine their own performance indicators for their CR objectives. In other words, what should be measured in order to assess the success of each project and its contribution towards the objective(s) concerned?
In due course CCRU will be seeking to develop an agreed set of performance indicators and baselines which can be applied across the whole District Council Programme. However, this is a complex matter, which will require more detailed study and research.
The following advice is taken from the Sports Council Northern Ireland Sports Development Fact-sheet:

'To be effective, meaningful and measurable the work programme should incorporate the following:
- A direct link must be established between aims, objectives and targets.
- There must be a meaningful time allocation linked to identified priorities.
- Precise performance indicators must be identified and agreed.
- Targets set must be realistic and achievable.
- The format must be clear and simple to serve as a working document.
- The deadline/completion date should be over a manageable period (e.g. 12-18 months).
- There must be space to assess achievement and to incorporate review and revision of objectives and targets.'

Although this advice was given for the production of work plans for District Council Sports Development Officers, it can also be applied to the production of Action/Operational plans for the Community Relations Officers of District Councils.


The following is an example of how a Community Relations Plan could be structured:


Mission/Vision Statement
This should be on front page

Background
This should be no more than three pages long.

Aims and Objectives
These should be related to each other.
(For example:)
Aim
1
'To develop programmes of work in all key areas identified through X District Council's CR Plan'
Objective
1.1
Identify and engage with potential partners in all key areas (May 1999)
1.2
Initiate project work in key areas (Dec. 1999)
1.3
Target grand aid at key areas (ongoing)
Aim number 2, etc.
Action/Operational Plan
An example for Aim 1 could be...

Working
objective
Key Actions
Performance
measures
Target
1999/2000
Outcome
to date

Budget

1.1 Identify and
engage with
partners in all key areas.
Audit locally to
identify partner
agencies.

Contact agencies
& arrange to
meet.



Devise strategies
for working in each key area.

List of partner agencies.




No. of contacts.
No. of meetings.




Willingness of
partner agencies to produce strategies and rake these forward.




August 1999





September 1999





December 1999

.
.
This is only one of the ways in which your plan could be laid out. It will be important that work can be easily reviewed quarterly and for this reason to use a table format may be useful.
---

6. Monitoring/Evaluation
This section in your plan should outline how you plan to monitor and evaluate your work during the year 1999-2000.
This is the means whereby you will know if you have been successful in terms of your investments or interventions, designed for improving community relations in your District Council area. It is therefore a very important section in your plan.
| | |
| --- | --- |
| Monitoring is: | The routine checking of progress against what has been planned. An important part of evaluation, it will seldom be sufficient to indicate whether the ultimate objectives of a plan have been achieved. |
| | |
| Evaluation is: | The process of checking afterwards how far plan objectives have been achieved. It involves the collection of information not routinely available within an organisation. It draws on information collected through routine monitoring. |
There is currently a monitoring process in place for the DCCRP and you should include in your plan how you will incorporate this as part of your work e.g. fill in and return monitoring forms annually, complete monitoring forms quarterly and submit at quarterly review meetings, join monitoring review group to look at ways of improving monitoring of the programme, devise an additional, local monitoring process useful to the development of your individual Council plan.
Whatever you decide to do in terms of monitoring, you must include provision for monitoring in your plan.
It is normal CCRU practice to have the DCCRP as a whole evaluated every three years m connection with ministerial discussions on its extension and further funding. The development of more clearly defined aims, objectives and performance indicators will facilitate this process. However, individual Councils will no doubt also wish to carry out their own evaluations to assess the impact of CR work carried Out locally and to review CR plans. You should outline in your plan how you will be evaluating your work.
Evaluation involves checking the progress of activities to decide whether they are doing what they set out to do, and finding out about the wider effects the work has had. When evaluating, it is also important to note other outside factors likely to have had an effect.
Evaluation can be carried out at different times in the life of a piece of work/programme.
| | |
| --- | --- |
| Baseline: | It is important to know where you start; can be used to set up aims of work. |
| Formative: | During programme to assist learning from experience and adjust work accordingly. |
| Summative: | End of programme, overall picture. |
A useful reference when thinking about evaluation is 'Measuring Community Development in Northern Ireland - a handbook for practitioners', produced by the Voluntary Activity Unit.
CCRU also recommend that Councils have a monitoring and evaluation process in place for groups in receipt of grant aid. You may do this via questionnaire, telephone or face to face interview. You could use the current evaluation form used by Community Relations Council's Small Grants Schemes as a model.
---

7. References
'Setting Objectives and Performance Measures'
Action Learning Programme 1994-1995, Community Relations Council.
'Conference Report'
Community Relations Officers' seminar, Corrymeela, 9-10 June 1998, Karin Eyben, CCRU.
'Strategy Business Case'
(Version #2) supplement to DAO (DFP) 8,94- guidance note 5, Economics Division and BDS-DFP Sept 1997
'Telling the Story of CR and the Role of Europe through the PSEP Sab-programme (1994-1999)'
Project directory, CCRU
'Into the Mainstream'
Community Relations Council strategic plan (199 8-2000)
'Developing a Strategic Plan'
Community Relations Council (1998)
'Best Value Guidelines'
Local Government Staff Commission
'Sports Development Fact-sheet'
Sports Council for Northern Ireland
'Sports Development in Northern Ireland'
Sports Council for Northern Ireland
'Sports Development Officer Initiative - Progress and Lessons Learned'
Sports Council for Northern Ireland
'Appraisal and Evaluation in Central Government'
The Green Book - Treasury Guidance
'Corporate Plan 1998 -2002'
Belfast City Council
---

Appendix 1

Diagram A: SWOT Analysis
Internal
| | |
| --- | --- |
| Strengths | Weaknesses |
| Opportunities | Threats |
External


Diagram B: Identifying Key Stakeholders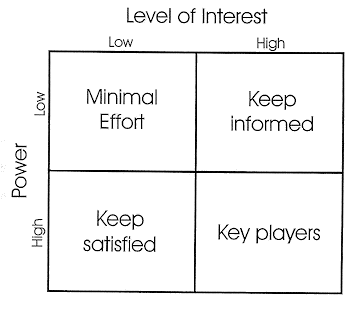 Appendix 2: CR Issues
| | |
| --- | --- |
| Geographical polarisation | The need to address geographical polarisation within the community. |
| | |
| Cultural Identity/Human Rights | Tackling the tensions associated with the expression of cultural identity which appear to cut across human rights issues. |
| | |
| Respect | The need to promote respect for cultural traditions and improved mutual respect. |
| | |
| Denial/Apathy | The need to challenge denial of CR problems and associated apathy. |
| Cross-Community Contact | Need for increased levels of cross-community contact. |
| Neutral Venues | Need to increase the number & uses of neutral venues. |
| | |
| Perceptions and profile of CR | The need to improve the image of CR with Councils and the status of the Community Relations Officer. |
| | |
| Council Image in terms of CR | The need to encourage Elected representatives to moderate their behaviour in the Council Chamber (as this adversely affects the Council's image and credibility of a provider of CR programmes). |
| | |
| 'Hard' Issues | The need to taclde contentious CR issues. |
| | |
| Increased Participation | The need to encourage greater participation from Protestant/Unionists. |
| | |
| Justice and Rights | The need to address justice and rights, seeking to ensure there is cross-community agreement on what constitutes justice and rights. |
| Political Options | The need to identify alternative political arrangements, which can satisfy the valid aspirations of the majority of both communities. |
| | |
| Resource/Training | Involves providing information, advice and guidance to clients. Also extends to the organisation/facilitation or delivery of CR training. |
| | |
| Mainstreaming | This work involves the weaving of CR considerations into the fabric of decision making by major statutory bodies and commerce, including Councils. |
| | |
| Border Issues | This work is particularly relevant in Council areas where their boundaries border with the south of Ireland. These communities can have particular CR issues to deal with because of their physical proximity to the border. |
| | |
| Regional Issues | This work involves co-operative CR projects between a number of Councils. |
| | |
| Victims | This work involves engaging with those who have suffered as a result of 'the troubles'. |
| | |
| Mediation | This work involves the intervention of an experienced third party in local disputes of a sectarian nature. |
Appendix 3: Proposed structure of Council Community Relations Plan


Mission statement
Include here the mission statement of the Council
Internal focus
Main learning points from previous evaluation of the programme's effectiveness-internal dimension

CR issues to be addressed- rationale- link with programme aim - link with 'top ten' issues - rationale for not addressing certain 'top ten' issues as appropriate.

Current position (baseline) - relationship between CR aims and other functions - interdependence

Objectives and Critical success factors

Key individuals/Stakeholders to engage - rationale - link with objectives

Resource implications - time and money

Monitoring requirements

Evaluation plan - processes and time-scale

External focus
Main learning points from previous evaluation of programme's effectiveness- external dimension

Current position (baseline) - relationship between CR aims and other functions - interdependence

CR issues to be addressed - rationale - link with programme aim -link with 'top ten' issues - rationale for not addressing certain of the 'top ten' issues as appropriate.

Objectives and Critical Success Factors

Key client groups to engage - rationale - link with objectives

Resource implications - time and money

Monitoring requirements

Evaluation Plan- Process and Time-scale
<! ------ bottom bar ------>
© CCRU 1998-1999
site developed by: Martin Melaugh
page last modified:
Back to the top of this page