NAI Records on CAIN
This section of the CAIN Web site contains a selection of digital versions of Irish records that are held by the National Archives, Ireland (NAI). The records selected by CAIN are ones which relate to the conflict and politics in Northern Ireland, and cover the period 1965 to 1980. The first selection of records (1965-69) was <!a href="/nai/launch.html"> launched on 25 October 2012.

Funding in December 2102 from the Reconciliation & Anti-Sectarianism Funds, Department of Foreign Affairs and Trade (DFA), allowed for a second selection of 750 records (1970-74) from the National Archives, Ireland to be added to the CAIN site on 28 November 2013.
<!img src="/images/new02.gif" border="0" alt="New icon" /> Further DFA funding in July 2014 allowed a third batch of 926 records (1975-80) to be added on 29 June 2017; see press release.
Funding from the Reconciliation Fund, DFA in December 2015 has been used to process a fourth batch of 920 records (1981-85); these will be added in the near future.
All of the records have been made available on CAIN with the permission of the Director of the National Archives, Ireland.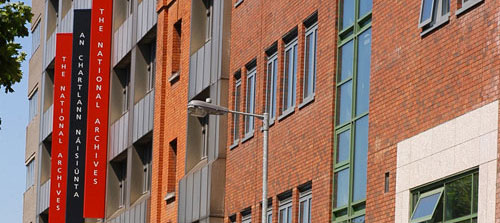 The National Archives building, Bishop Street, Dublin 8
See also:
PRONI Records on CAIN
Public records from the Public Record Office of Northern Ireland (PRONI)